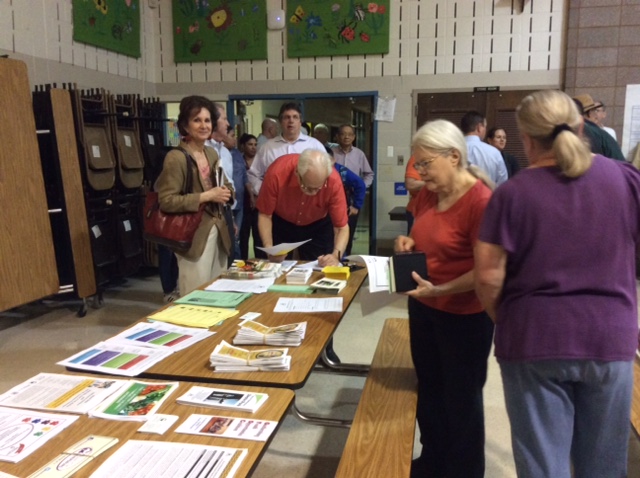 Public Safety Issues Dominate Council in the Communities Meeting in Gaithersburg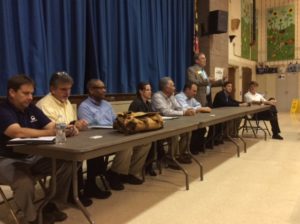 Gaithersburg officials hosted a "Council in the Communities" meeting on Oct. 19 at Fields Road Elementary School.
Dozens of residents from the communities of Shady Grove Village, the Reserve at Crown Pointe, Washingtonian Village and Timberbrook attended the meeting to ask questions and to listen to presentations from city staff about neighborhood services, public safety, youth services, and public works.
Gaithersburg Mayor Jud Ashman began the meeting with a moment of silence in memory of former Council member Henry Marraffa, who passed away earlier this week.
During the 90-minute meeting, residents asked questions about code enforcement issues, public safety, parking concerns and snow removal.
One resident asked about gangs in the city, another asked about the amount of time it took police to respond to a call, and another resident said he was concerned about safety at the intersection of School Drive and Muddy Branch Road.
When asked how residents can find out about crimes that may occur in the city limits, Officer Dan Lane told residents that he posts a crime summary online to keep residents informed.
Gaithersburg officials encouraged residents to call or email city officials with suggestions, questions and/or concerns about life in the city, and to stay involved.
Ashman also encouraged residents to sign up for the city's online newsletter to stay informed.
Gaithersburg Mayor Jud Ashman begins CIC meeting w a moment of silence in memory of Councilmember Henry Marraffa. pic.twitter.com/jLLOPgrOrT

— Sonya Burke (@SonyaNBurke) October 20, 2016
Rachel Tailby says she is passionate about helping youth in community. Touts Cookout w Cop program in @GburgMD. pic.twitter.com/qvVFNa3CSs

— Sonya Burke (@SonyaNBurke) October 20, 2016
Michael Johnson touts @GburgMD snow removal crews: "tops!" pic.twitter.com/NtsV1wotck

— Sonya Burke (@SonyaNBurke) October 20, 2016
Gaithersburg Police Chief Mark Sroka says officers do not inquire about a person's immigration status.

— Sonya Burke (@SonyaNBurke) October 19, 2016
.@GPDNews answer question about gang activity in the city. pic.twitter.com/utqrOOMcOU

— Sonya Burke (@SonyaNBurke) October 19, 2016
.@MichaelSesma & @RySpiegel arrive for .@GburgMD Council in Communities meeting. pic.twitter.com/9yhDSf6oYU

— Sonya Burke (@SonyaNBurke) October 19, 2016
.@GburgMD is holding a Council in the Communities meeting tonight at Fields Road Elementary. pic.twitter.com/61iPOtGZyC

— Sonya Burke (@SonyaNBurke) October 19, 2016