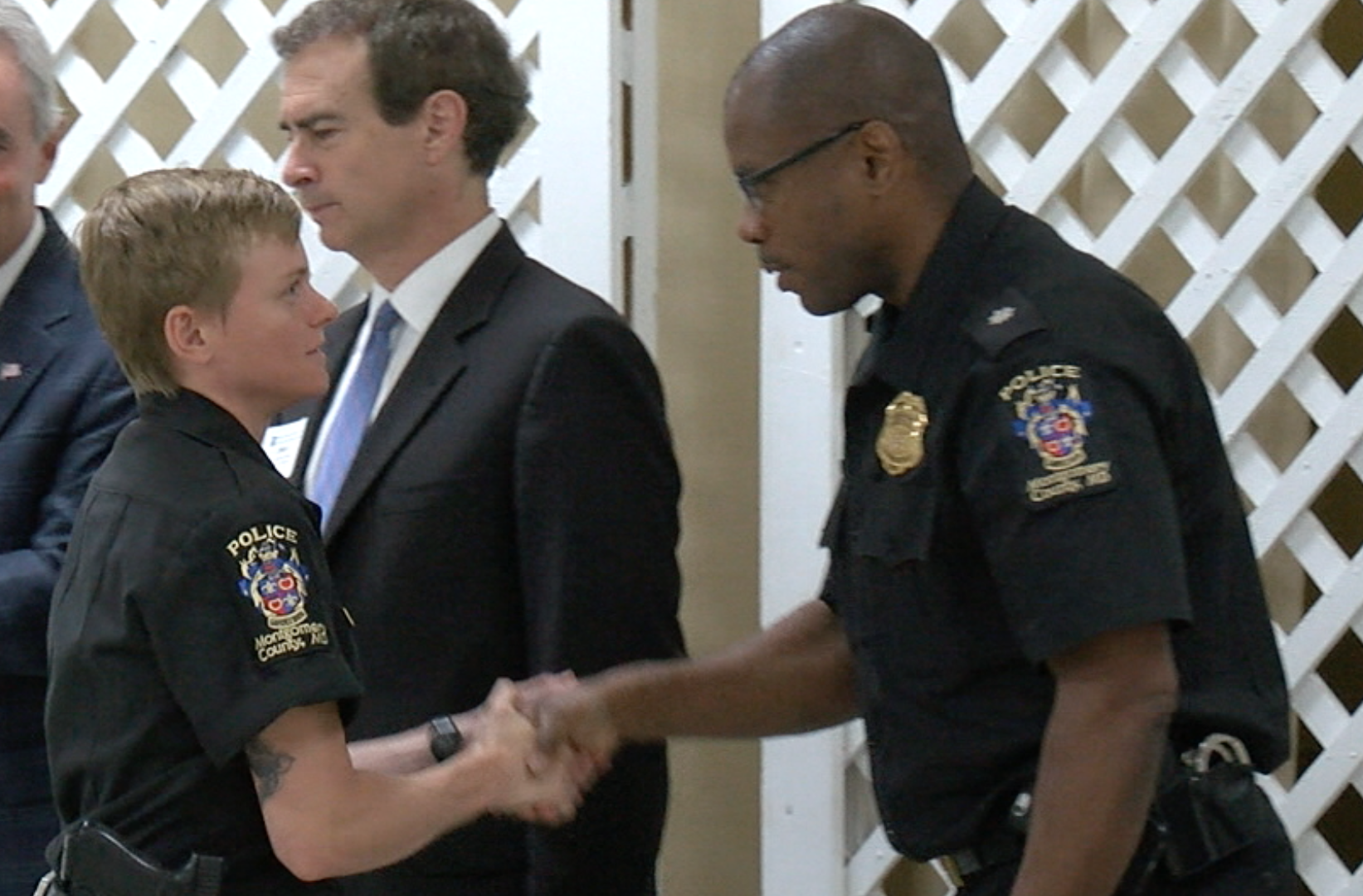 Public Safety Officials Honored at Annual Awards Ceremony (VIDEOS & PHOTOS)
The Gaithersburg-Germantown Chamber of Commerce (GGCC) celebrated first responders on July 8th at its annual public safety awards.
The ceremony happened just hours following the tragic shooting in Dallas, and Montgomery County Police Assistant Chief Darryl McSwain held a moment of silence in honor of the victims. MyMCMedia's Maureen Chowdhury reports.
"This is usually a celebration, but it was a much more somber tone this morning and it really underscores the importance [that] they really do put their lives on the line and it's really important for us as a community to say thank you," Marilyn Balcombe, president of GGCC, said.
Members from Montgomery County Fire and Rescue Service Rescue Squad 703, City of Gaithersburg Police Department and Montgomery County Police Department 5th and 6th District Stations, were recognized for their bravery and distinguished service.
Montgomery County Fire and Rescue Services Battalion 703 was honored with a Citation for Bravery for their response to a crash and extrication that happened on Feb. 14 on Travilah Road. According to Fire and Rescue Chief Scott Goldstein, all personnel at the scene were involved in a 90 minute extrication that was "physically and emotionally taxing due to the patient's condition, the bitter cold temperatures, and complexity" of the situation.
One story that struck a chord with many in the crowd was that of Officer Amber Richard, who went out of her way to befriend a victim of child abuse. According to 6th District Commander Dinesh Patil, Richard has been very involved in the child's welfare and when she heard that the 7-year-old boy had never received a Christmas present, she "rallied the troops" to deliver a truck full of gifts. Richard received the Meritorious Service Citation.
Officers also received citations including for Meritorious and Distinguished service.
Awards being handed out today. @mymcmedia pic.twitter.com/BKL1sDmDz1

— Maureen Chowdhury (@MediaMaureen) July 8, 2016
Fire and Rescue battalion 703 receives citation of bravery. For a Feb. 14 extrication. @mymcmedia pic.twitter.com/Qxfta09JpP

— Maureen Chowdhury (@MediaMaureen) July 8, 2016
A moment of silence is held in honor of lives lost in Dallas last night. @mymcmedia pic.twitter.com/hUIpZqlzor

— Maureen Chowdhury (@MediaMaureen) July 8, 2016
.@GGCCNEWS hosting its annual Public Safety awards ceremony today in Gaithersburg. pic.twitter.com/5WsDXklxsK

— Maureen Chowdhury (@MediaMaureen) July 8, 2016