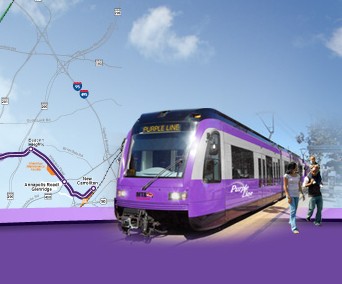 Purple Line Contract Receives Green Light from Governor Larry Hogan
Governor Larry Hogan today gave the green light for the Maryland Department of Transportation to move forward with the Purple Line, a 16.2-mile-long transit system connecting New Carrollton in Prince George's County to Bethesda in Montgomery County. Purple Line Transit Partners has been selected by Maryland to build the light rail system. Construction is expected to begin later this year, with rail service opening for service in spring 2022.
Governor Hogan asked the Maryland Department of Transportation to address three concerns prior to approving the project. The concerns included: additional financial support from local governments, reserved federal funding, and aggressive pricing from the successful team.
After eight months of hard work and tough negotiating, the Maryland Department of Transportation has met all three of the needed requirements and delivered a cost-effective Purple Line with a strong commitment from our federal, county and private partners," said Governor Hogan.
Transportation Secretary Pete Rahn praised Purple Line Transit Partners, saying, "With great construction know-how, superior transit expertise and continued low interest rates, Purple Line Transit Partners is positioned to deliver a tremendous value to Maryland taxpayers."
The state reports an agreement has been reached that will see the state's upfront expenditure for Purple Line construction cost drop to $159.8 million – $8 million less than the $168 million threshold Governor Hogan originally announced. Additional project savings also will come from a reduction in the average annual availability payments, which will be $149 million, versus an earlier estimate of $167 million over 30 years. These payments will cover financing, operations, maintenance, and future required capital repairs and replacements for the Purple Line.
To complement state funding for the project, Prince George's and Montgomery counties have pledged a combined $330 million in cash and non-cash contributions for the project. The federal government also has reserved about $900 million for the Purple Line in New Starts Funding. In the most recent announcement of President Obama's budget, $125 million was recommended for FY 17, which would bring the total federal funding to date to $325 million to be appropriated for the Purple Line.
The state has reduced overall costs during the 36-year life of the agreement by more than $550 million. With an expected $1.36 billion in fare revenue along with local and federal contributions to the project, the final costs for the state over the 36 years will be about $3.3 billion.
Approval from the Maryland Board of Public Works is expected in April, with financial close of the contract expected in early June.
This financial step will allow the state to work with the U.S. Department of Transportation's Federal Transit Administration to finalize a Full Funding Grant Agreement in July with the Maryland Department of Transportation's Maryland Transit Administration (MTA) that will oversee the Purple Line construction project.
MTA will give Purple Line Transit Partners full notice to proceed on the project at financial close with construction to begin in late 2016. The Purple Line is expected to open for service in spring 2022.
Related: