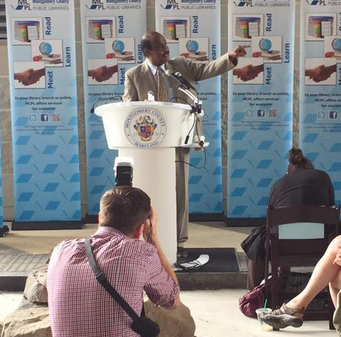 Purple Line: Leggett Sends Message to Governor Hogan (VIDEO)
During the ribbon-cutting ceremony at the new Silver Spring Library on June 20, Montgomery County Executive Isiah Leggett took a picture of the crowd standing on what is scheduled to be one of the Purple Line's stops.
In this MyMCMedia Extra video, Leggett said he was going to send the photograph to Maryland Governor Larry Hogan to show him "that Silver Spring needs it and that it is important and that it goes very well with this new Silver Spring Library."
The Purple Line is a proposed $2.44 billion light rail extending from Bethesda in Montgomery County to New Carrollton in Prince George's County.
Leggett also talked about the Silver Spring Transit Center and said in "three weeks, two days, and one hour or so Montgomery County will turn the new transit center to Metro."
The transit center, to be dedicated when it eventually opens as the Paul S. Sarbanes Transit Center located of Colesville Road, is to be a transportation mecca with:
32 bus bays for WMATA Metrobus, Montgomery County Ride-On, MTA regional commuter bus, Van-Go shuttle, Inter-city Buses, and University of Maryland Shuttle,
Direct access to Metrorail and MARC,
54 Kiss & Ride spaces and taxi spaces,
Intelligent Transportation system,
Multi-modal transit store,
Accommodation for future Bi-County Transitway, connections to regional hiker/biker trails and a local trail, and open space replacement and enhancement.
More than 400 people attended the new Silver Spring library grand opening.