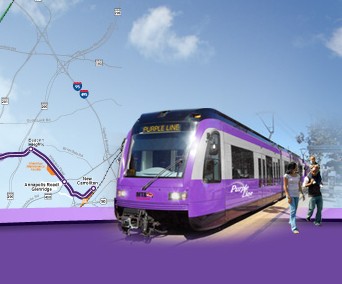 Purple Line Transit Partners Plan to Meet the Public
Purple Line Transit Partners, the companies that have won a contract to build and operate the Purple Line, is holding a meeting from 6:30 p.m. to 8:30 p.m. today at Montgomery Blair High School.
The Purple Line will be a 16-mile light rail link between Bethesda and New Carrollton, stopping at 21 stations, including Silver Spring and College Park.
The meeting will give residents a chance to meet the companies and learn about the public-private partnership that will build the Purple Line. Montgomery Blair High School is at 51 University Blvd. E, Silver Spring.
The Purple Line suffered a setback when U.S. District Court Judge Richard Leon ruled that Metro ridership decreases would hurt Purple Line ridership.
On Wednesday, the Washington Post reported that a federal budget document shows the Trump administration is still considering the Purple Line for $900 million in Federal Transit Administration funding.
Previous post:
UPDATED: Leggett Disappointed with Purple Line Decision; Hogan Finds It 'Baffling'