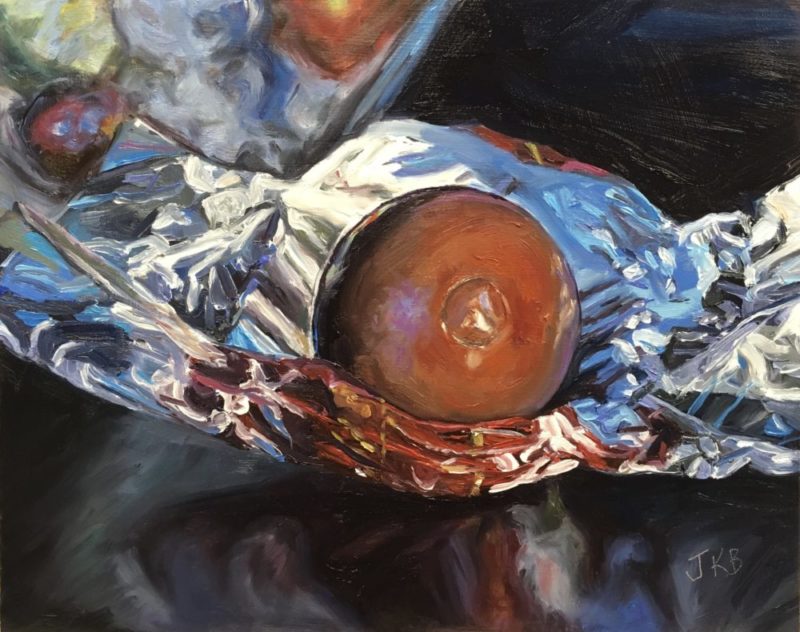 Pursue or Walk Away?
Today my five year-old got very upset that he had made a mistake coloring a picture of a car.  As a parent, you want to instill in your children that mistakes are ok, if not even great to make.  You might end up with something even better or follow a different path than you expected.   The children's book "Beautiful Oops" by Barney Salzburg illustrates this point beautifully.  Throughout the book, things like spills and tears and smudges transform into beautiful and whimsical works of art.
And sometimes, while I did not want to tell my son this, it is better to walk away and know when you have have been stumped.  A year and half ago, I started a painting that I had been thinking about for the prior nine months.  I got through the photographic reference and my first step of blocking in the shapes and colors and then, as I always do, I stop and ask myself  – is this painting going to work?
After studying the canvas for 20 minutes, walking away, and studying it more the next day, I came to the conclusion that it was not working.  It was not going to turn into the amazing painting I had been dreaming about.  It is HARD to walk away after putting already so much effort into the piece, but I learned that an artist also needs to know when to cut his or her losses and move on.  No ifs, ands, or buts…this painting was not going to work.  If I had pursued it I am pretty sure tears would have been involved.
Elizabeth Gilbert talked about how ideas choose an individual in her book, "Big Magic."  I truly believe that.  This idea of painting of Lindor truffles would not give up on me, even after I walked away from it.  Six months later, the idea came back to me, in a slightly different form, and I was able to achieve what I had set out to do.  So maybe walking away is the answer, until the idea gnaws on you, becomes mature and polished, and you can finally do it justice.