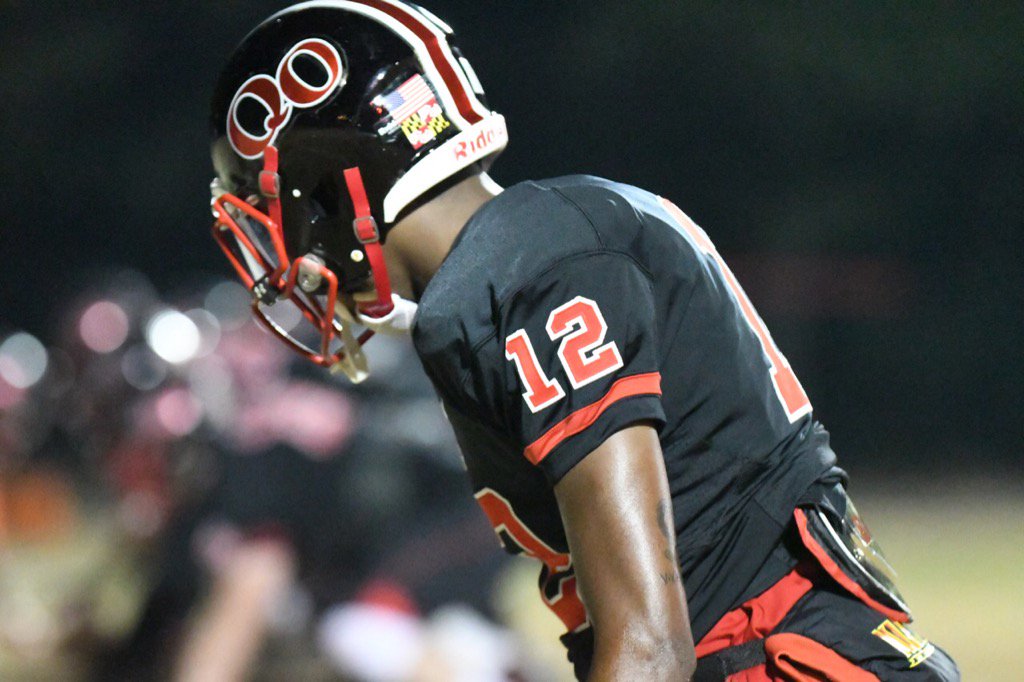 QO Cougars Defeat Annapolis 42 – 14, Advance to 4A State Title Game (PHOTOS)
UPDATED The Quince Orchard Cougars are going to states after a 42-14 win over the Annapolis Panthers on Friday night at the Cougardome.
The Cougars will take on the Wise Pumas in the 4A state championship game at the Navy-Marine Corps Memorial Stadium on Dec. 9.
You can find ticket information, here.
You can find more information about the state championship games, here.
PHOTOS | Phil Fabrizio
State FB Finals officially set for Thurs., 12/8 – Sat., 12/10!! Tickets at https://t.co/xkMisxa59o. More info at: https://t.co/JB13BRaokr. pic.twitter.com/rbfeN4HAof

— MPSSAA (@MPSSAA_Org) November 27, 2016
@QOAthletics ? defeats Annapolis 42-14! Cougars will play Wise for the 4A state championship at Navy Marine Corps Stadium! Congrats QO!

— Jeff Sullivan (@MCPSAthletics) November 26, 2016
Final 42 – 14. Quince Orchard moves to 4A Championship game. @mymcmedia pic.twitter.com/Zu36p9gnq0

— Phil Fabrizio (@Photoloaf) November 26, 2016
Wade scores for QO now 42-14 with 2:21 on the clock. @mymcmedia @gdpoze pic.twitter.com/CwPRWYbM8i

— Phil Fabrizio (@Photoloaf) November 26, 2016
Hough for 50 plus yards scores for Annapolis now 35-14 with 6:02 left @mymcmedia pic.twitter.com/gWAKIHRzGI

— Phil Fabrizio (@Photoloaf) November 26, 2016
Beander from the 10 yd line makes it 35-7 Quince Orchard with 6:49 left. @mymcmedia @gdpoze pic.twitter.com/CsgATDDEGH

— Phil Fabrizio (@Photoloaf) November 26, 2016
Williams for Annapolis scores from 1 yd making it 28-7 QO 8:54 left in game @mymcmedia pic.twitter.com/N4JsvPvTX0

— Phil Fabrizio (@Photoloaf) November 26, 2016
Bonner end around for the score from 6 yards out. 28-0 @mymcmedia pic.twitter.com/tsv9OG6g4c

— Phil Fabrizio (@Photoloaf) November 26, 2016
FUMBLE. QO s ball. @mymcmedia pic.twitter.com/wdaYghdTqS

— Phil Fabrizio (@Photoloaf) November 26, 2016
The "doc" makes a visit to the end zone @mymcmedia pic.twitter.com/F7RxTP5Mc6

— Phil Fabrizio (@Photoloaf) November 26, 2016
At half with Standing room only it's Quince Orchard 14 Annapolis 0. @mymcmedia pic.twitter.com/lKp92SwOQw

— Phil Fabrizio (@Photoloaf) November 26, 2016
Beander scores going up the middle for 11. Score is 14-0 QO @mymcmedia pic.twitter.com/LNuX5BqdU5

— Phil Fabrizio (@Photoloaf) November 26, 2016
End of 1st. 7-0 Quince Orchard @Photoloaf @mymcmedia pic.twitter.com/EQoxMHXrE0

— Phil Fabrizio (@Photoloaf) November 26, 2016
QO 7-0 Jones on the receiving end goes 14 yards with a pass from Bonner. @mymcmedia pic.twitter.com/vq9JE5veMl

— Phil Fabrizio (@Photoloaf) November 26, 2016
First ever meeting. It's Annapolis vs QUince Orchard in 4A MPSSAA Football Semis @mymcmedia pic.twitter.com/Suw5IcRVeo

— Phil Fabrizio (@Photoloaf) November 26, 2016
QO cheer with alumni @Wale #letsgocougars ??❤️ @qohsvarscheer pic.twitter.com/1g7TH6gJJO

— QO Cheer Coach (@QOcoachNichols1) November 26, 2016