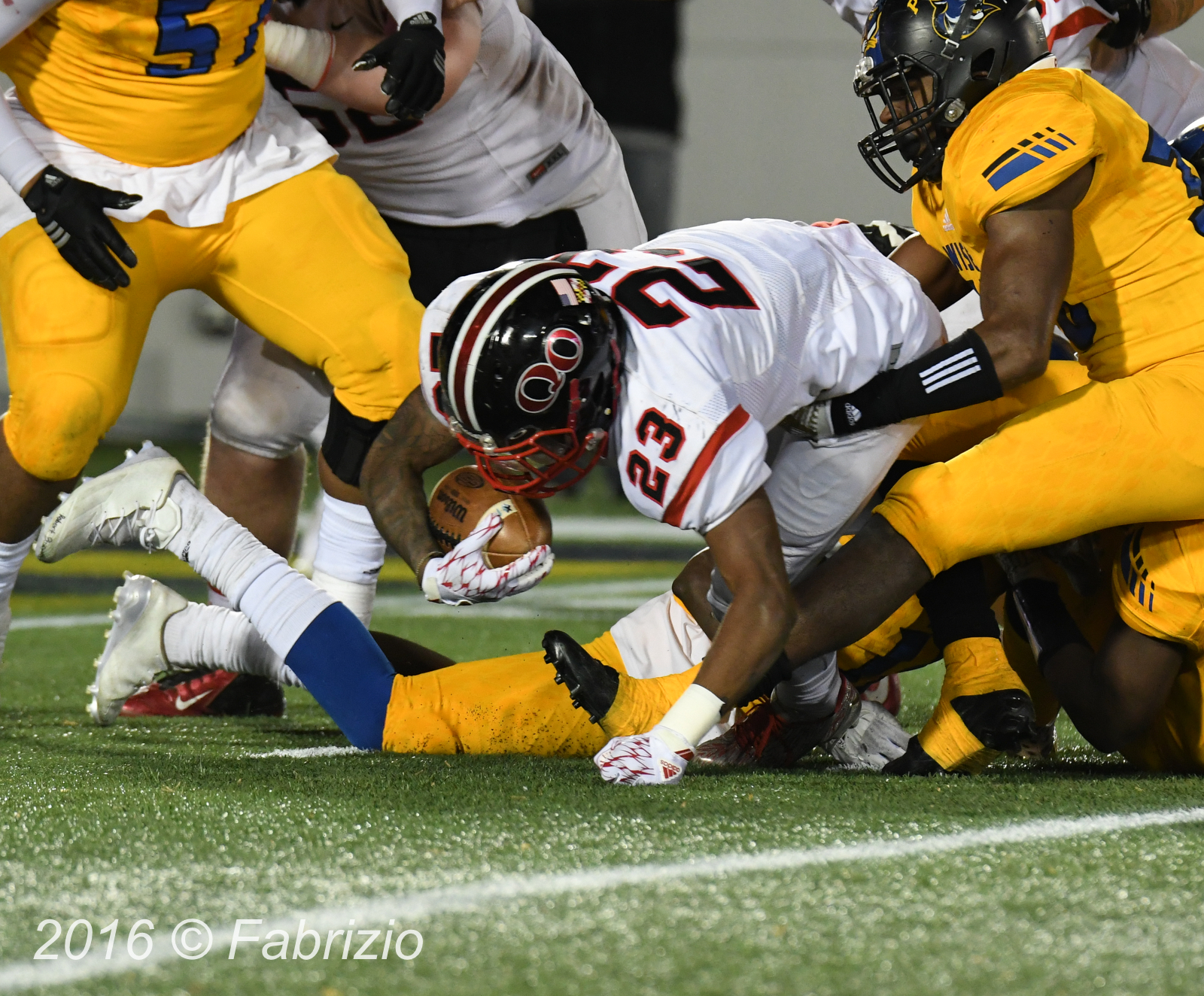 QO Goes Cold at State Final (PHOTOS)
Blogger Note:  This football contest was the last Friday Night Lights (12/9/16) game for the 2016 season for MCM.  It by far was the most weather conditional game in the last 4 months of coverage and because of that I took my time to write this blog – I had to thaw out.  No really, I had to give this some thought – and I just wasn't thinking straight yet.
It was cold last Friday night in Annapolis. So was this brand of Quince Orchard football that made it to the state 4A finals at Navy-Marine Corps Memorial Stadium after an exceptional year. Their opponent Dr. Henry A. Wise from Prince Georges County got to the same place undefeated over the past two years. Wise Puma's remained that way winning the 2016 4A crown 42-7 over the QO Cougars
Let there be no doubt Wise was by far a superior champion. There were many a perverse turns experienced by the Cougars throughout the game basically all of their own doing.
Four momentum stopping fumbles and an ill fated 3rd quarter fourth and two attempt from QO's own 33 yard line lead to 29 points on four scores by Wise. QO was only down by 14 at halftime but it was that pivotal 3rd quarter when Wise took control of the game and added 22 points on their side of the scoreboard.
Midway in the 3rd QO found success with a 90 second drive starting on their own 31. The big play was a 54-yard catch made by Brendan McGonagle ending on the Puma's 4-yard line. Two plays later it was Bonner to Jones for QO's only score. The Puma's responded quickly on the next series with a 72-yard pass from Jabari Laws to Anthony Lytton making it 36-7 in favor of Wise.
Perhaps the most chilling play of the evening unfolded on the next 3rd quarter series when Puma linebacker Calvin Hickerson collided with QO quarterback Doc Bonner as Bonner fell forward while being tackled. The violent hit knocked Bonner unconscious and he was transported from the field by paramedics then flown to the University of Maryland Shock Trauma Center. He was conscious when he left the field and is now home recovering.
QO's 4th fumble of the evening stopped any further progress in the last quarter and Wise scores two minutes later to make it 42-7 that resulted in a running clock ticking out the final moments for QO in Annapolis.
QO's offense finished with a net 247 yards on 9 for 15 passing by Bonner for 115 yards with Marvin Beander gaining 101 yards on 19 carries. Laws for Wise had 276 yards on 15-18 passing and John "Moo Moo" Oliver carried 16 times for 106 yards. Wise's offense finished the night with 422 net yards.
In the final Washington Post's AllMet rankings posted on Tuesday Wise finished 14-0 and second to DeMatha in the DMV while QO finished 12-2 earning the 9th spot among the top 2o teams.
Game photos follow
© 2016 | Phil Fabrizio for MCM
@Photoloaf®