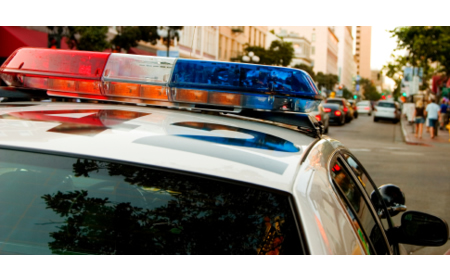 QOHS Put on Lockdown
Students at Quince Orchard High School (QOHS) were put on lockdown shortly before dismissal today (March 15) because of an incident near the school.
Montgomery County Police Officer Rebecca Innocenti said police received a report at 2:11 p.m. of a weapon displayed from a car in the vicinity of the high school.
Montgomery County Public Schools (MCPS) Spokesperson Dana Tofig tweeted that the school was briefly put on lockdown because of an incident in the school parking lot. He said the incident did not involve students or the school. He said some neighboring schools were put on "shelter in place."  Lakelands Park Middle School was one of those schools.
"Security measures were taken in an abundance of caution," Tofig said on Twitter. "The situation at QO has been resolved. There was no danger to students or staff."
In a message to parents, Lakelands Park Middle School Principal Deborah Higdon explained the phrase, shelter in place: "This means we locked all exterior doors, restricted student and staff movement in the halls and closely monitored the inside and outside of the building," Higdon said.
"Safety will always be our top priority," she said. "The steps we took were to make sure all students and all staff members were safe."
Police said during their response they learned that two bail bondsman were chasing someone in the area. According to Police Officer Janelle Smith, it turns out there was no weapon involved.
Higdon said the incident did cause a slight delay with dismissal.
"At 2:33, I received information that the lockdown at Quince Orchard High School was lifted. I immediately lifted our shelter in place. I was also informed that buses would be delayed due to the events at Quince Orchard," she said. "The delay resulted in students getting on their buses at 2:50 instead of 2:40."