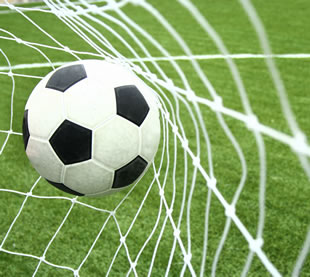 Quince Orchard Boys Varsity Soccer Improves Record to 3-1
The Quince Orchard boys' varsity soccer team improved their record to 3-1 by defeating Gaithersburg by a score of 3-1 in a home game on Wednesday night. The QO boys didn't look as sharp as they had in their first 3 games, especially in the last 20 minutes, but still managed to come away with the win.
The QO goals came from midfielder Isaac Zuniga, who converted 2 penalty kicks, and forward Eli Holmstead, who scored on a header to notch his 7th goal of the season. For Gaithersburg, the player of the game was goalkeeper Ismael Hernandez, who stopped at least 5 hard shots from close range and kept the game close until the very end. Gaithersburg had only 4 shots on goal for the game, compared to 15 for the Cougars.
QO scored the game's first goal in the 12th minute, when Hernandez blocked a hard shot from Holmstead, and QO forward Edwin Portillo moved quickly to secure the rebound in front of the net. He was taken down from behind in the box and awarded a penalty kick. Isaac Zuniga stepped up to take the penalty and calmly buried it to put QO ahead 1-0. Although QO dominated possession for the rest of the half and forced Hernandez to make several more tough saves, the score remained 1-0 when the period ended.
Two minutes after halftime, the younger half of the Zuniga duo, junior midfielder Samuel Zuniga, lofted a beautiful pass in the air to Holmstead, who headed it sharply past the keeper to make the score 2-0.
Two minutes later, QO defender Ronin Robertson made a heads-up play to keep Gaithersburg off the board. Cougar goalie Scott Drazan had come out of the box to clear a ball but didn't reach it in time, and Gaithersburg sent a hard shot towards the open net. Robertson reacted quickly and managed to clear it just before it crossed the goal line.
Schedule of Games