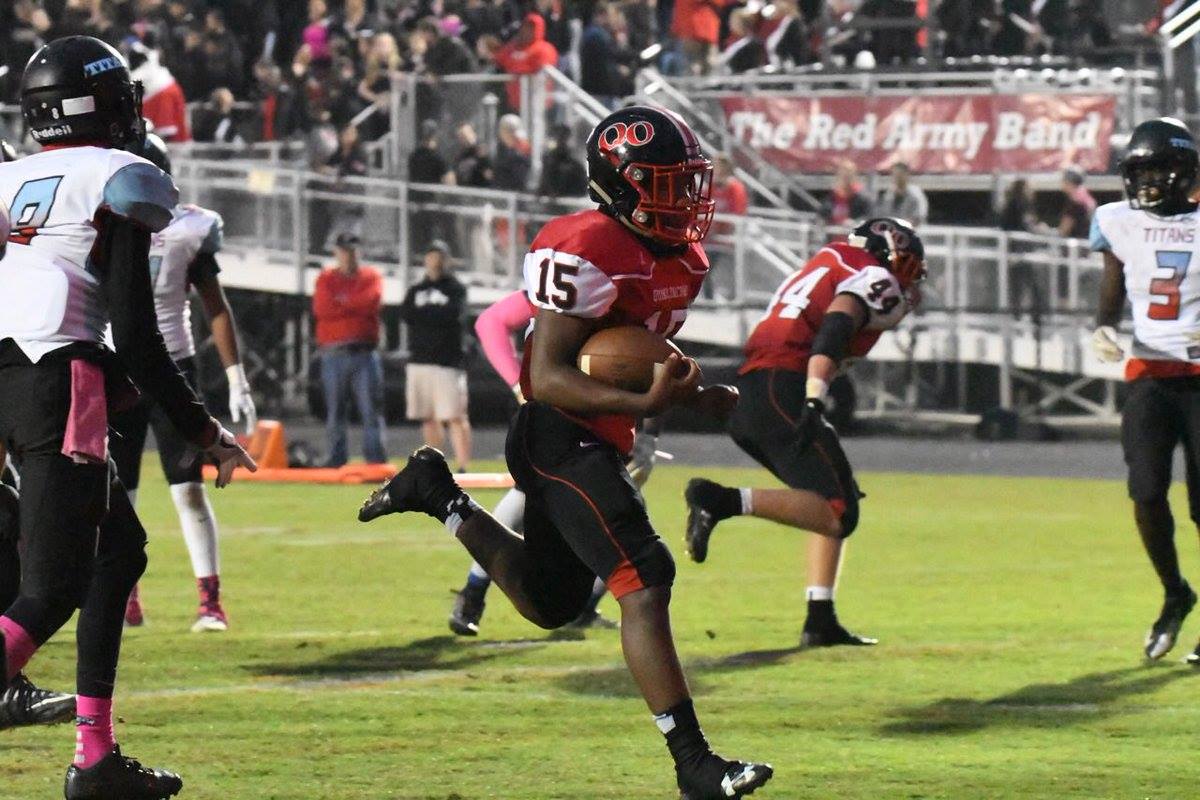 Quince Orchard Cougars over Einstein Titans 47 – 0 (Photos)
It was homecoming on Oct. 13, and the Quince Orchard High School varsity football team was matched up against the Einstein Titans.
Quince Orchard scored 27 points in the first quarter. By the end of the first half, Quince Orchard had extended their lead to 40-0.
The Quince Orchard Cougars won this conference game against Einstein Titans by a score of 47-0.
Quince Orchard's record is now 6-1. The loss brought Einstein to 4-3.
Next week, the Cougars are on the road against Wheaton while the Titans go travel Northwood.
Final score 47-0, Quince Orchard.
PHOTOS | Phil Fabrizio
Final. QO 47 Einstein 0. @mymcmedia pic.twitter.com/kZRtmauwoV

— Phil Fabrizio (@Photoloaf) October 14, 2017
40-0 to start the 2nd half at QO. @mymcmedia pic.twitter.com/r0pk0IUK2Z

— Phil Fabrizio (@Photoloaf) October 14, 2017
Hodges in the receiving end of a Bonner pass. 34-0 QO leads Einstein in the 2nd QTR. @mymcmedia pic.twitter.com/CtKlmoRic9

— Phil Fabrizio (@Photoloaf) October 13, 2017
62 yd pass from Bonner to Derwin at the end of 1st makes it 28-0 QO @mymcmedia pic.twitter.com/2uZAOuP2Dc

— Phil Fabrizio (@Photoloaf) October 13, 2017
QO's Cooper up the middle from about the 5yd line makes it QO 14 Einstein 0 with 6:46 in the 1st @mymcmedia pic.twitter.com/0eShEoxg4r

— Phil Fabrizio (@Photoloaf) October 13, 2017
Einstein goes 4 and out as punter kicks ball into his own blockers QO's Green recovers at 1 and scores 7-0 QO @mymcmedia pic.twitter.com/GOcTRrOUeW

— Phil Fabrizio (@Photoloaf) October 13, 2017
Game time in Darnestown @QOFootball vs @EinsteinHS in FNL #mocogameday @mymcmedia pic.twitter.com/d33giEwQjq

— Phil Fabrizio (@Photoloaf) October 13, 2017
QO seniors in the Homecoming Court. Tonight's FNL game with @mymcmedia features Einstein taking on QO @6:30P. @QOAthDirector pic.twitter.com/EN102VYlKZ

— Phil Fabrizio (@Photoloaf) October 13, 2017