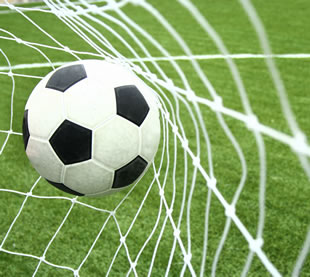 Quince Orchard Over Seneca Valley, 6-0
The Quince Orchard (QO) boys' soccer team got their first shutout of the season on Thursday night in a 6-0 victory over Seneca Valley. Six different players scored for the Cougars, who had 26 shots on goal compared to only 4 for the Screamin' Eagles. All the QO players got significant playing time.
Five of the QO goals were set up by nice assists and the sixth came on a confident penalty kick by Ryan Levy. With 2 wins this week, the QO boys improved their record to 5-1.
The first goal came in the 9th minute, when midfielders Isaac Zuniga and Alex Martinez teamed up on a beautiful give-and-go. Zuniga passed the ball into Martinez and made a run toward the goal from the left side. Martinez one-touched the ball back to Zuniga in front of the goal, and Zuniga easily finished to make the score 1-0.
Forward Eli Holmstead scored the 2nd goal in the 21st minute on a nice through ball from midfielder Samuel Zuniga. The Seneca Valley keeper had made several tough saves to stop Holmstead on one-on-one opportunities earlier in the game, but this time Holmstead dribbled the keeper and scored on a tight angle from the left side. The score was 2-0 at the half.
Holmstead and Samuel Zuniga teamed up for another goal 7 minutes into the 2nd half, but this time with roles reversed. Holmstead sent a nice through ball to Zuniga, who controlled it with a good first touch and then beat the goalie to the far post.
Martinez got his 2nd assist of the night just 4 minutes later, sending a perfectly timed pass to junior forward Everest Longa, who pounded the ball past the keeper from just inside the right corner of the box.
QO scored 2 more goals in the last 7 minutes of the game. At that point, sophomore forward Alex Raines was taken down just inside the box and awarded a penalty kick. With the encouragement of his teammates, senior forward Ryan Levy stepped up and confidently pounded the ball into the back of the net.
Perhaps the best goal of the night came with just four minutes to go, when two sophomores teamed up for the final goal of the game. Defender Ronin Roberton made a long run down the right side, dribbled two Seneca Valley defenders on the end line and sent a cross to the near post. Forward Gabriel (Laki) Psallidas made a perfectly timed run and one-timed the ball just inside the near post to make the final score 6-0.
Schedule of Games