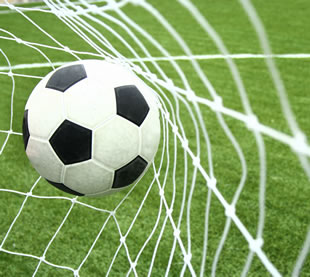 Quince Orchard Varsity Boys Soccer Wins 3-1 in Home Opener Against Whitman
In their home opener on Thursday night, the Quince Orchard varsity boys' soccer team hosted Whitman, the number 1 ranked high school team in the area according to the Washington Post. In front of a large and boisterous crowd, QO defeated Whitman 3-1 behind a strong defensive effort, clinical play in the midfield, and three goals from Eli Holmstead, with the last 2 coming with under 5 minutes left in the game.
Against a very good Whitman team, QO looked composed and well organized from the start, controlling possession for long stretches and creating several good chances. Even so, Whitman went ahead 1-0 in the 17th minute, with a goal by Adam Deutchman from inside the box. But with QO defender Marco Capraro blanketing Whitman star forward Andreas Djurhuus, and strong efforts from all four defenders, QO kept Whitman off the scoreboard for the rest of a very intense game.
QO tied the game 12 minutes into the 2nd half, when Holmstead dribbled past 2 defenders and blasted a near-post shot just under the crossbar from well outside the box.
With the score tied, Whitman stepped up the pressure, and QO goalkeeper Scott Drazan was forced to make 2 incredible saves – once stretching full out to stop a blast from Djurhuus and a few minutes later rushing well outside the box to stop a one-on-one opportunity for Whitman. But QO regrouped and managed to control possession most of the rest of the half. With under 5 minutes left, it looked like the game would be going into overtime, but QO midfielder Samuel Zuniga made a nice run down the middle and played a through ball to Holmstead, who controlled the ball with a good first touch and then beat the onrushing keeper with his left foot, sending the ball just inside the far post.
With less than 5 minutes remaining, Whitman pressed to get the equalizer, but QO remained very composed and didn't allow any other shots on goal. With under a minute to go, QO midfielder Isaac Zuniga sent a long free kick into the box. Before the ball hit the ground, Holmstead muscled past a defender to get a foot on it and redirect it into the goal. Final score 3-1.  Next up for the QO boys is another home game on Monday night against rival Northwest.
Schedule of Games