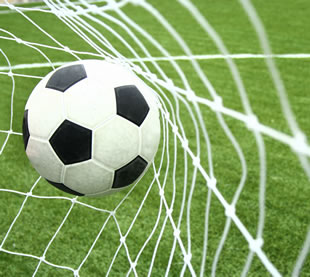 Quince Orchard Varsity Boys Soccer Falls 2-3 in Overtime against Northwest
For fans of the Quince Orchard varsity boys' soccer team, Monday night's game against Northwest demonstrated why soccer can be a cruel sport.  Although QO dominated possession throughout game and had many more shots and shots on goal than their rivals from Northwest, they fell 3-2 in overtime. None of the Northwest goals came in the run of play. Two came on penalty kicks and the third on a spectacular 40-yard free kick that ended the game in the second overtime period. Santiago Alzate scored all three Northwest goals.
After a scoreless first half, QO got on the board first with a goal by Eli Holmstead ten minutes into the second. After receiving a long ball on the left side, he cut back past two defenders and slotted the ball through the goalkeeper's legs and into the net. Northwest tied it up nine minutes later, when QO keeper Scott Drazan was given a yellow card for a foul inside the box. Under the rules, he was forced to leave the game, and backup keeper Erick Castello came in without any warm-up to face the ensuring penalty kick, which was converted by Alzate.
With 14 minutes left in the second period, QO center back and co-captain Ryan Kirk was given a red card for his second yellow of the game, and QO was forced to play a man down.  Four minutes later, Northwest was awarded another penalty kick for a foul in the box, which Alzate converted to put Northwest up 2-1.
With 3:30 remaining in the second half, two QO defenders teamed up to even the score at 2-2. Marco Capraro headed the sharply off a long free kick, forcing the Northwest goalkeeper to make a difficult save. The keeper managed to block the shot but couldn't control the ball, and Bryce Sullinger pounded the rebound into the back of the net to force the game into overtime.
QO completely controlled possession during the first overtime period, even though they were playing a man down until a Northwest player was sent off for his second yellow card as the period expired. Then, just 2 minutes into the second overtime period, Alzate took a free kick from 40 yards out.  It was a rocket just inside the top right-hand corner that went off the crossbar and into the net to give Northwest an improbable win. Under high school rules, any score in overtime is a "golden goal" that ends the game – the soccer equivalent of a walk-off home run.
Schedule of Games