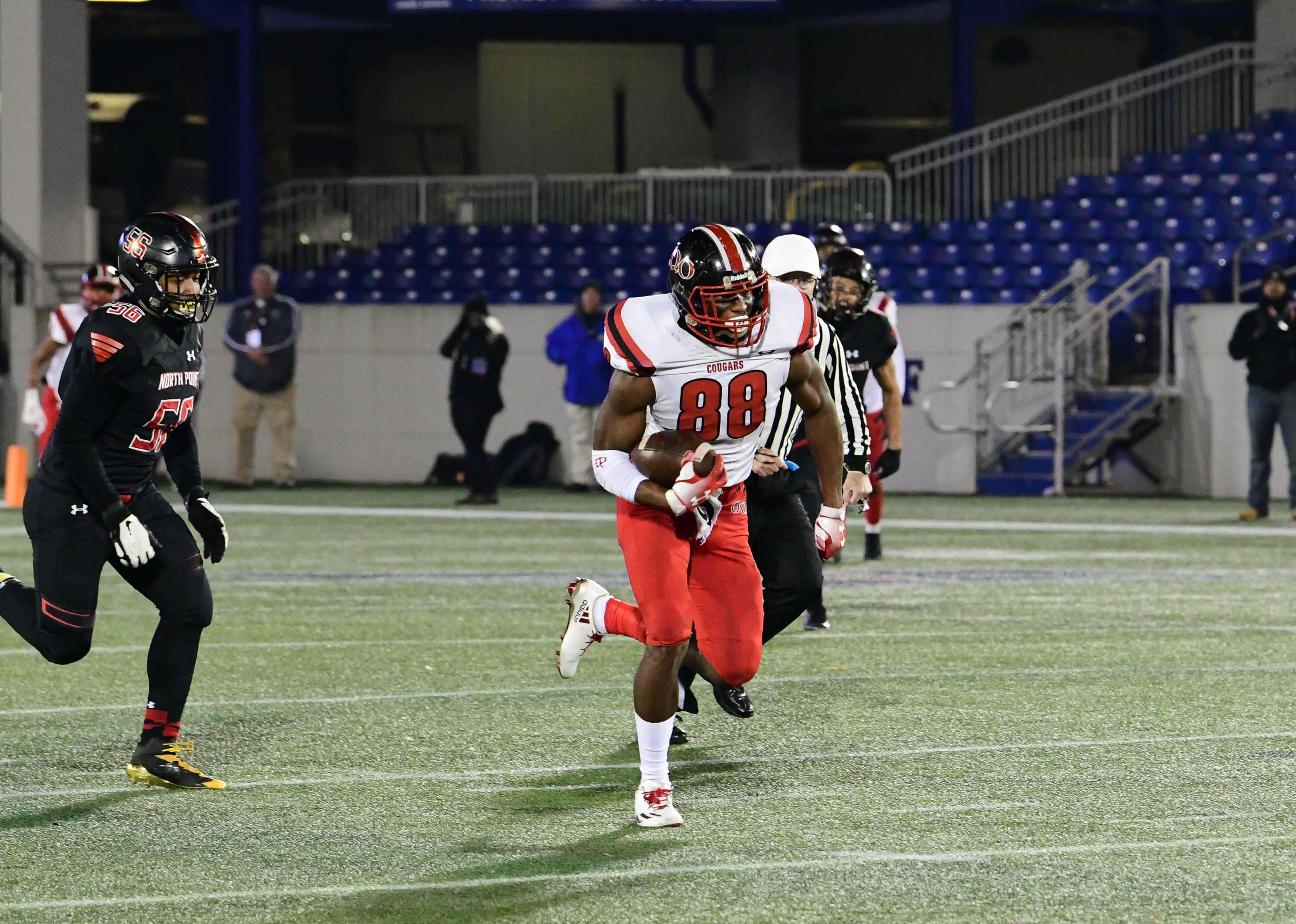 Quince Orchard Wins MPSSAA 4A State Championship 40-33
Navy Marine Corps Stadium Annapolis, Maryland November 30, 2018
Quince Orchard's path to the MPSSAA 4A state Championship began with a lightning-shortened game vs Bethesda-Chevy Case in late August when the Cougars scored 55 first half unanswered points.  The Cougars quest for a state championship after years of "almost" became a reality Friday night as they defeated North Point High School 40-33.  The game was closely contested but as the game wore on the momentum shifted in favor of Quince Orchard late in the second quarter when they took the score to 20-13 over the Eagles from Waldorf, Maryland.  The Quince Orchard momentum of the first half continued in the second half as a result of an impressive drive to make the score 26-13.  A costly fumble by #7 Asa Williams resulted in a "scoop and score" by defensive lineman #88 Kevon Carter-Hackey that made the score 33-13 after his 61 yard run for the touchdown.
Quince Orchard's "smash mouth" ground offensive was classic ball control, eating up yards with a total of 293 yards gained.  Cougar scoring came as result of four rushing touchdowns and one passing touchdown.  The most impressive offensive performance was by #15 sophomore Marquez Cooper who netted 243 yards during the game, which took him over 2000 yards for the season.
Quince Orchard was certainly not to be denied a 4A Championship this season.  The only tears this season were tears of complete joy for a long struggle to be 4A MPSSAA State Champions which they are and richly deserve to be.
Congratulations to the players, coaches, parents and faithful fans of the Cougar RED ARMY!!!!
Pictures to follow by Daryl Schultz