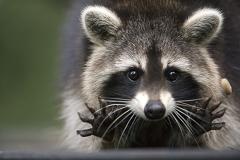 Coon Wars
A man steadies the cage and gently guides it away from the chimney top. I catch my breath and pause in the driveway, stopped by the drama unfolding on my neighbor's roof. Inside the cage is a raccoon as big as my kitchen stove.
Forgive the kitchen reference. Seeing the caged animal took me back to my childhood, when my step-grandmother, who could not cook well, prepared fried raccoon for Sunday dinner. After one forced bite of the gamy, over-fried meat, my brother and I followed our grandfather's lead and hid the remainder under a paper napkin. Grandpa "D" didn't care for her recipe either.
It doesn't matter whether you live in an urban or wooded area, chances are you've seen a raccoon peaking at you from behind a bush, or parading through your property. In this area, they are almost as plentiful as deer. But even after the episode on my neighbor's roof, I had no idea what I was in for. Then, one early evening while working in my basement office, I counted five ring-tailed critters strolling single file past the open window. They were not cats.
With stout bodies, short legs, pointed muzzles and small erect ears; they were unmistakably North American raccoons. Along with their distinctive tails, they sported black masks across their faces, like little bandits. The mask is just nature's little warning. Their brains, and their feet, are the real problem.
Raccoon feet resemble little hands, with the fingers necessary to turn doorknobs, open gates, climb trellises, remove roof shingles, or untie your shoes. Brains? Well, the City Paper reported in 2007 that naturalists have seen raccoons pick, aim and throw fruit at a barking dog.
The coon in the crate next door had been living cozily with her kit above my neighbor's living room fireplace, separated from the interior of the house by the closed flue. She reportedly weighed in at over 30 pounds, much bigger than my 12-pound dog, Macy. Once the men removed the adult, the kit came out on its own accord.
After that, I should have been forewarned that I'd get to know raccoons a lot better in the years to come. Now, ten years later, I've had to bar them from my home three expensive times. It's my very own coon war.
It turns out I'm not alone. The Montgomery County Police Animal Services Division classifies raccoons as 'nuisance wildlife.'  On their website, the police department advises homeowners to place tight-fitting lids on trashcans, or place ammonia soaked rags into trash bins to keep them away from houses.
Here's the Animal Services Division website: (http://www6.montgomerycountymd.gov/poltmpl.asp?url=/content/pol/districts/MSB/animal/WildlifeNuisanceConcerns.asp)
The raccoons in my neighborhood don't want to get into the trash. They want to take up residence inside the house, climbing trellises and trees to tear off metal and wood slats or wire screens to gain access. Those little hands, and the brains behind them, are pure trouble.
And there's more: Not only can raccoons cause hundreds of dollars of damage, but the pesky mammals can transfer viruses, parasites and bacteria to humans and to domestic pets.
Click the "Raccoon" heading on the police department website, and you will be directed to the Humane Society, where you can set an appointment to have the animals removed. The site also provides the option of calling the Maryland Department of Natural Resources for help, at 1(877) 463-6497.
I called last week and left a message. Unfortunately, the line was busy and the mailbox was full when I called again this week. Either coons and local pests, like foxes, groundhogs, skunks and bats, are very busy, or budget cuts have affected the number of personnel available to help.
"We are short staffed," answers Robert Fey, a wildlife biologist who stepped from another department to return calls, "and the phone rings 24-7, off the hook."
At the Department of Natural Resources, says Fey, callers can get a free permit to trap the animals themselves. Department staff provides lists of places to rent and buy traps, or contractors licensed by the state to safely remove the pests.
Most recently, raccoons broke into my attic again. This time, they treated the Christmas ornaments stored there as hors d'oeuvres for their party. I returned from a trip to find boxes overturned, broken multicolored glass strewn across the attic floor and bloodied animal poop against the door separating the mayhem from my bedroom.
Once I got the courage to enter the crime scene (and the friend to go with me), I saw how they got in this time: A wooden slat torn from my roof vent. I was able to seal the roof before they returned. Three raccoon break-ins have taught me that wild things just love my attic.
For previous break-ins, however, I've opted for a licensed pest removal service. They trapped, removed and released the raccoons elsewhere, leaving me feeling only slightly guilty about making my pests someone else's problems.