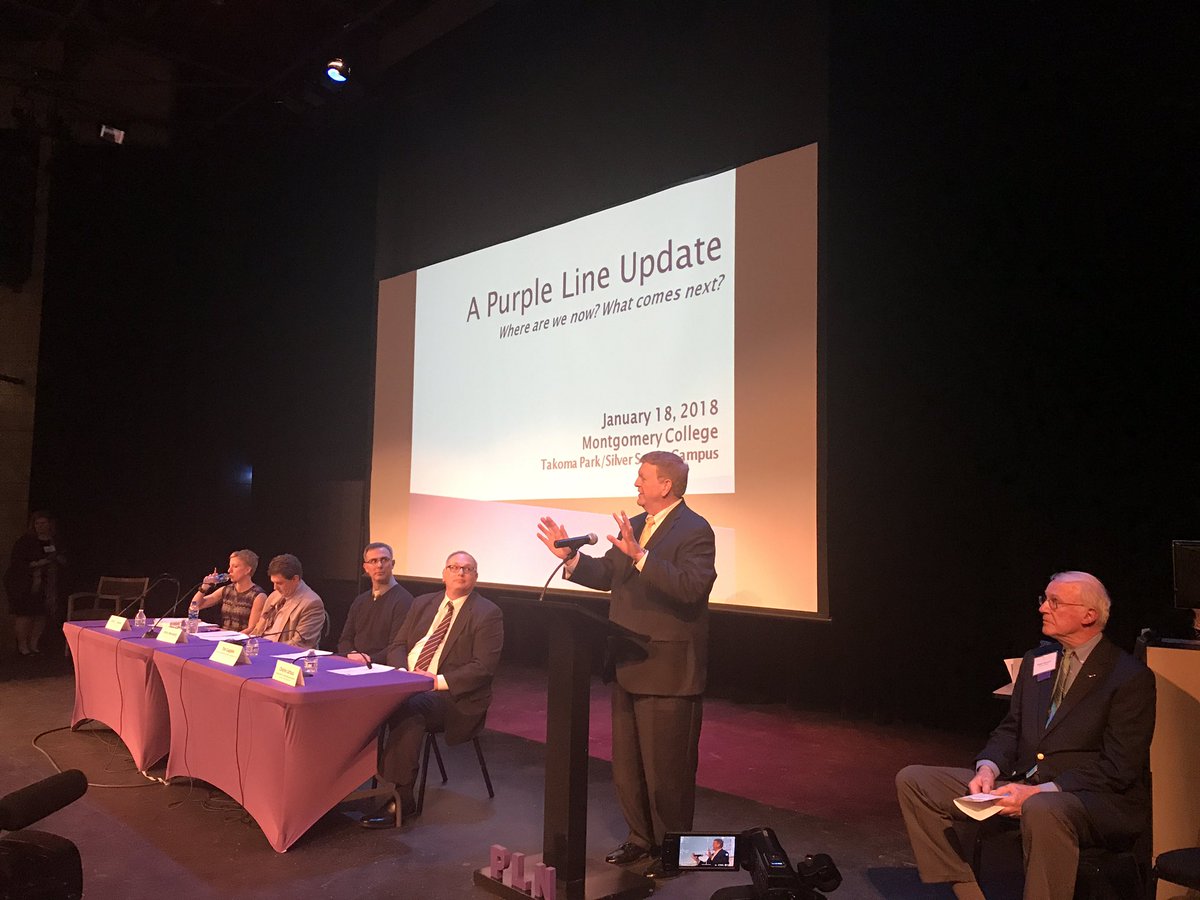 Rahn Says Residents Should Anticipate Minor Delays for Purple Line Project
The Purple Line is still on track to begin service in 2022 but it may not be exactly in the spring as predicted since project leaders are anticipating some delays, according to Maryland Secretary of Transportation, Peter Rahn.
"We do expect there to be some movement of the revenue service date but I do not anticipate that to be one year. I believe it to be less than that," Rahn said.
He made this announcement during a public forum hosted by Purple Line NOW! Thursday evening at Montgomery College Takoma Park Silver Spring Campus to update the community on the light rail project.
Thursday's meeting marks the fourth forum since Jan. 2016 and the second event held at the college campus, according to Purple Line NOW! president, Ralph Bennett.
Despite the minor delays, Rahn told attendees that the estimated 16.2-mile-long transit system connecting New Carrollton in Prince George's County to Bethesda, Maryland in Montgomery County is already making a difference economically.
"So far, Purple Line Transit Partners has hired about 375 engineers and construction workers," he said. We expect the workforce to grow to 1,500."
But despite the job growth update, residents are concerned about the impact construction for the project will have on existing businesses.
Montgomery County Councilmember George Leventhal asked Rahn if the state would be willing to assist businesses with transitional help for documented losses similar to Montgomery County's program for businesses impacted by the construction for the Wheaton Revitalization Project.
Rahn, however, stated that while he empathizes with business owners, the state has to use caution not to set a precedent for transportation projects in the future.
"I understand the request but I understand what the implications can be for us across the state and that really concerns me," Rahn said. "When impacts like this occur to them that are beyond their control, I get it, but I don't want to make a promise to you that we can do something for you that I really doubt MDOT can handle."
Leventhal said he believes the state should take small businesses concerns in consideration:
Here's what else residents should know about the project:
Residents should not expect tracks to be laid just yet because demolition for the project is still underway.  10 miles worth of new water pipes for WSSC have to be laid down first and trees need to be cut down as well.  The deadline for cutting trees is April 1.
Project leaders anticipate that once the project is complete, ridership for the Purple Line is expected to be approximately 59,000 riders per day and increase to 74,000 by 2040.
PLTP is still hiring for the project, and the latest information regarding employment and investment opportunities can be found by clicking here.
After the recent news regarding Montgomery County being named as a potential site for Amazon second headquarters, Rahn said MDOT will do "whatever it takes" to accommodate the company.