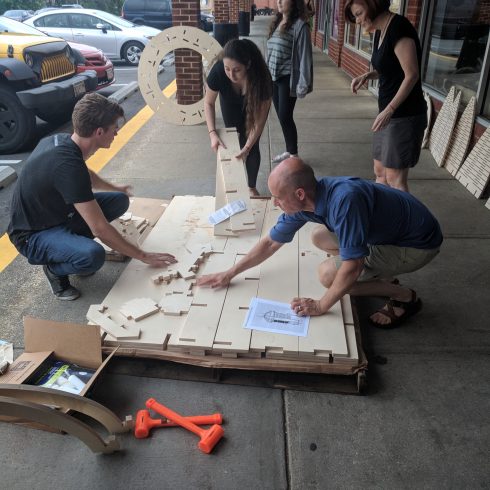 Randolph Hills Shopping Center to Transform into Community Space
Better Block Announces the White Flint Placemaking Festival, celebrating Local Food, Arts, and Fitness
In just a few weeks, Randolph Hills Shopping Center will transform into a community greenspace that will offer activities for everyone, no matter their age.
Since May 2018, Better Block, an urban-based nonprofit in Dallas, has been working with residents in the Randolph Hills neighborhood to re-design a portion of the Randolph Hills Shopping Center.
After analyzing more than 100 survey responses, the Better Block team found that the community is looking for a space full of various activities including a neighborhood bar, coffeeshop, local restaurants, and activities for kids.
Starting Oct. 13, an underutilized field of grass and a small portion of the parking lot at Randolph Hills Shopping Center will be transformed into a pop-up park with food, arts, fun, and a fitness zone for the inaugural White Flint Pacemaking Festival.
In addition, the two-day event will feature local musicians and artists, and restaurant owners who will sell food and drinks. The goal of this event, according to organizers, is to give the community an opportunity to articulate and execute their vision for the neighborhood
"What we found from residents is that they feel as though they had community ownership of the space or felt welcome," said Colin Amos, the project manager for the Better Block Foundation. "One of our biggest initiatives is for the community to use this new resource, take ownership, and help activate it for future use."
The Better Block Foundation has partnered with the Montgomery County Planning Department, Randolph Civic Association, and Kronstadt Realty to help reshape Randolph Hills Shopping Center in planning this event.
"Our hope is that when we bring together all the different members of this community, residents, students, and business owners, to create something new and vibrant in this space and then get to enjoy it, it will inspire a permanent transformation that will benefit everyone," says Matt Tifford, Randolph Civic Association member."
The White Flint Placemaking Festival will take place on Oct. 13 from 4 p.m. until 9 p.m., and on Oct. 14 between 10 a.m. and 3 p.m.
For more information, or to learn how to get involved, click here.