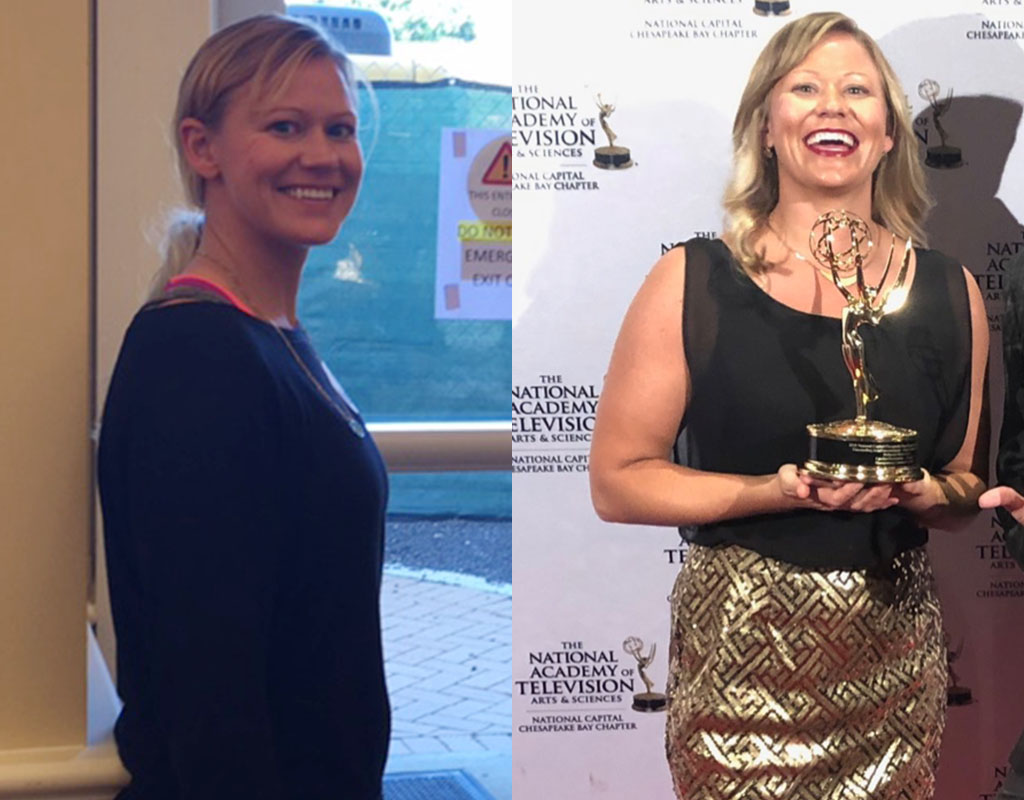 Raskauskas: From MCM Student to Emmy-Winning Producer
Graduating from the University of Colorado Boulder (UCB) with a bachelor's degree in psychology, Carolyn Raskauskas never thought she would work as a camera operator, editor, director and producer at Montgomery Community Media (MCM), or any place like it. And the thought of making history and winning the area's most prestigious award was not even a pipe dream.
Because she liked mixing colors and textures, Raskauskas ventured into the fashion world before becoming an entrepreneurial artist, making things out of recycled material, small home furnishings, and jewelry. "You get to make things, which is what I love about being an artist," Raskauskas said.
A fellow UCB alumnus who worked as a TV producer recommended video production to her as another way to 'make things.' Raskauskas took her advice and began taking television classes at MCM in 2015. "After the first class," she said, "I was like 'this is it. I'm hooked.'" After taking all the TV production classes MCM offered, she still wanted more and began volunteering as a camera operator for the media center's studio and field productions. And just for fun, she also shot and edited her own video projects.
In 2015, MCM offered Raskauskas a part-time job as a Production Tech, a position in which she did not stay long. "She is a hustler and a student of the craft", said Production and Studios Manager Vincent Sarageno.
Part-time employment soon gave way to a full-time job, when Sarageno, then a production coordinator, was promoted to the position of manager. "Hiring Carolyn to replace me was my first management decision I ever made. It's still the best decision I ever made," he said. "She works so hard to learn everything possible about Video Production "
It was then that Raskauskas first made history at MCM. In her position as a production coordinator, she became the first woman to work full-time in the media center's production department. But that was just the beginning. Last July, Raskauskas found a local artist whose story she really wanted to tell.
So honored to be here at the #CapitalEmmys ! Good luck to all the nominees! @mymcmedia @JYash pic.twitter.com/XsjwOGPI89

— Carolyn Raskauskas (@CarolynRask) June 22, 2019
Raskauskas produced and edited the story of a local street artist.  She interviewed artist Juan Pineda and filmed him as he painted. With the help of others on the MCM staff, she built the studio set for the Pineda interview. The studio portion of the story was shot by videographer Ben Romero.
It took her a while to get the piece right, but when it was finished, Raskauskas had a good feeling about it. It turns out, she was onto something.
On June 19 this year, the announcer at the 61st National Capital Emmy Award gala called Raskauskas' and Romero's names as winners in the Arts/Entertainment News Feature/News Series category. It was their first Emmy win and the first ever in the 30-plus year history of MCM. The award-winning story was about Juan Pineda, a Washington, D.C., artist who transformed the Bethesda Metro station with a Mayan-inspired mural. 
"I love murals and what I liked about him [Pineda] was he did the Metro station, and I grew up here," Raskauskas said. "It had a connection to my personal life, and his art is super vibrant, fun, creative and different. His art was inspiring for me to put the video together from the visuals, graphics, animations and music."
Raskauskas's goal is to keep learning and growing as she continues her journey at MCM. 
"It's an exciting time and we're trying new things and branching out in different directions."