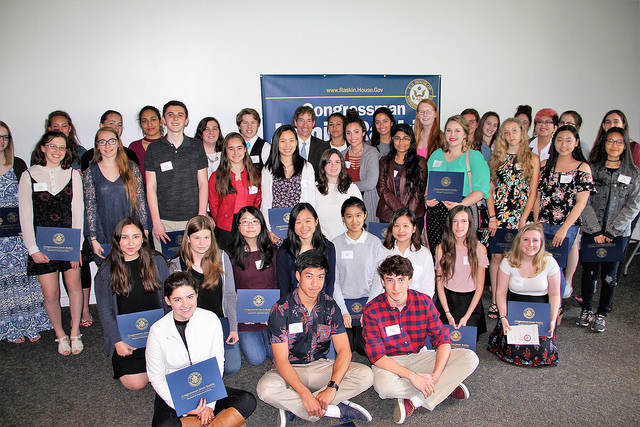 Raskin Announces Winners of 2017 Congressional Art Competition
Congressman Jamie Raskin (MD-8) has announced the winners of the 2017 Congressional Art Competition for high school students at a recent ceremony held at VisArts in Rockville, according to a news release.
More than 90 students were recognized with congressional certificates of  recognition for participating in this year's competition.
This year's winner was Michelle Zhu. Her painting titled, "Cityscape in Rain," will be displayed in the U.S. Capitol Building for one year.
The following runner-ups will have their artwork displayed in Raskin's Capitol Hill and Rockville offices: Makayla Davis ("Untitled"), Marie-Yolande Fanouvi ("Self Portrait"), Sarah Fenster ("Overcast Dreams"), Kayla Gillis ("Self Portrait"), Zelda Littlejohn ("The Move"), and Angelique Nagovskaya ("Little Sister").
"We have been blown away by the breadth and depth of the student submissions we received this year," Raskin said in a statement.  "I commend all of the student artists who submitted their work and all the family members, educators, friends, and community members who supported these enormously talented students."
Kudos to #MD08 winner Michelle Zhu, who will have her painting, "Cityscape in Rain," displayed in the @uscapitol for one year. pic.twitter.com/9jEQYY8siA

— Rep. Jamie Raskin (@RepRaskin) May 8, 2017
I commend all of the talented student artists who submitted their artwork to my 2017 Congressional Art Competition. #MD08 pic.twitter.com/YKKS2k3o4y

— Rep. Jamie Raskin (@RepRaskin) May 8, 2017
ICYMI: my Congressional Art Competition exhibit is free & open to the public at @VisArtsCenter until Sunday. Check it out! #MD08 https://t.co/SczjVXCa9a

— Rep. Jamie Raskin (@RepRaskin) May 5, 2017