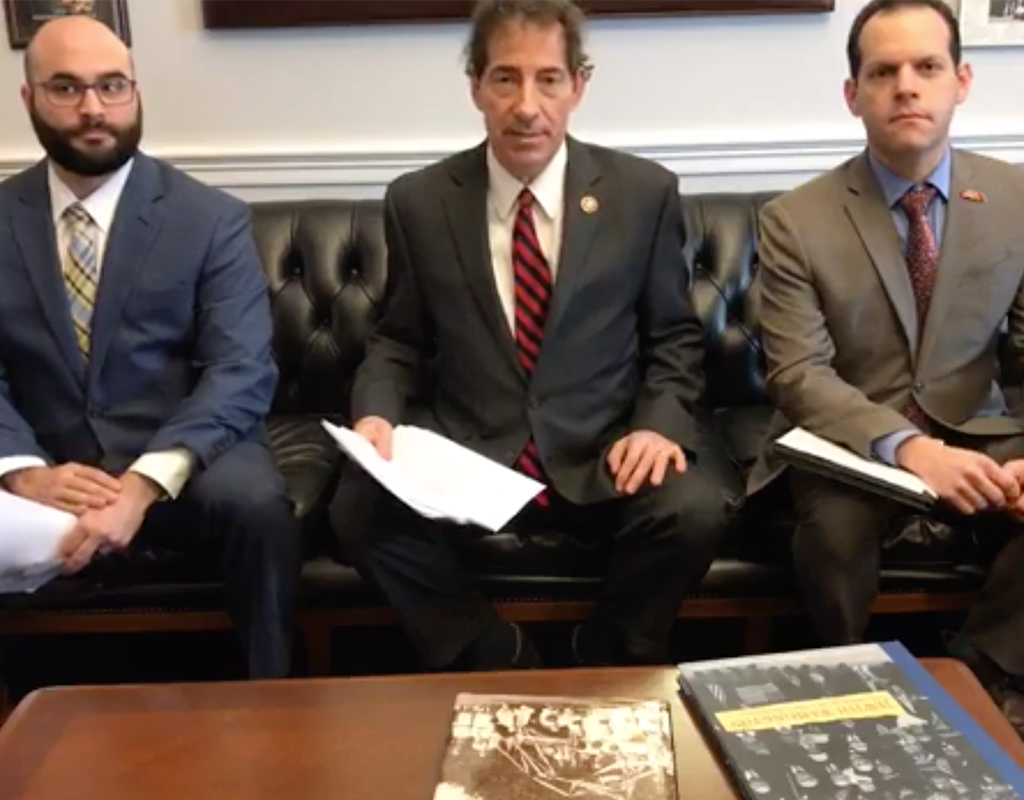 Raskin, Glass Discuss Shutdown Resources for County Residents
Rep. Jamie Raskin teamed up with Montgomery County Councilmember Evan Glass on Facebook Live this morning to discuss resources for Montgomery County residents impacted by the federal government shutdown.
Raskin said that he decided to take to social media to talk about resources for those hurting from the government shutdown because he's been hearing directly from furloughed employees who are working without a paycheck.
"I'm hearing from air traffic controllers, who are being forced to borrow money with the 10 percent penalty from their own retirement funds to make ends meet, and to pay their mortgages," said Raskin. "I'm hearing from federal workers who are pawning jewelry in order to make healthcare payments."
Raskin said that despite lawmakers' inability to come together to end the shutdown, there are resources available for furloughed workers who are financially struggling because of the government shutdown.
During the Facebook Live video, Raskin introduced Roy Murray, the director of advocacy for the Maryland & D.C. Credit Union.
Murray said that anyone who is not a member of a credit union can still try and join one to receive help.
Murray said, "Credit unions have been offering a number of different programs to include no interest and low-interest loans for periods of time, deferred payments, 'skip a pay,' fee waivers, emergency loans consolidation, and financial literacy counseling for anyone affected by the shutdown."
Murray said the Maryland & D.C. Credit Union website offers a more comprehensive list of how credit unions are helping during the shutdown.
Councilmember Glass said the federal workers represent 13 percent of the workforce in Montgomery County (that doesn't include federal contractors).
Glass, who serves on the Health and Human Services committee, said he reached out to leaders in the non-profit sector urging them to help those impacted by the government shutdown.
Here are some of the specific Montgomery County resources that Glass discussed.
Most food banks have waived their income requirements.
Many healthcare providers have waived requirements (Clarksburg Medical Center isn't charging copays or co-insurance for individuals)
MCPS has a job fair from 9 a.m. to 3 p.m. for federal employees who are furloughed.
MCPS has waived income requirements for children to receive meals through its Dine with Dignity project.
A number of small pet stores and the Animal Welfare League are offering food for animals.
(Raskin pointed out that one of the problems with job fairs is that many people's federal government contract prevents them from working a second job, so before attending a job fair, federal employees should be aware of their contracts.)
"We are resilient people; we have strength in our community … and people are committed to sticking together in the spirit of solidarity to help people get through this," said Raskin.
Briefing on the Shutdown & Resources for Affected Workers (w/ Councilmember Evan Glass & Maryland & DC Credit Union Association)

Posted by Rep. Jamie Raskin on Wednesday, January 16, 2019
In addition to talks about the shutdown, Raskin noted that he is also pursuing legislation to get disaster relief to different areas in the country that are still recovering from natural disasters, including hurricane victims and victims in California hurt by the aftermath of forest fires.