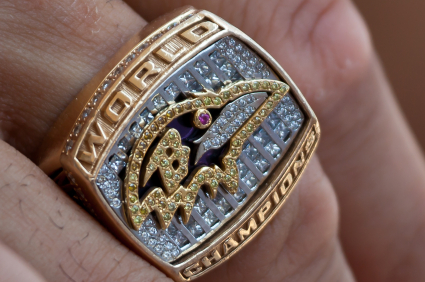 Ravens Victory Parade & Celebration
A victory parade hosted by the city of Baltimore and Mayor Stephanie Rawlings-Blake will be held for the Super Bowl XLVII Champion Baltimore Ravens on Tuesday, Feb. 5.
Beginning with an introduction from Mayor Stephanie Rawlings-Blake, the Ravens' parade will kick off at 10:45 a.m. at City Hall.
From City Hall, the parade will proceed south on Commerce Street, continue to Pratt and Howard Streets, and end at M&T Bank Stadium.
Beginning at approximately at 12:30 p.m., fans are encouraged to attend a celebration featuring the team and live entertainment at M&T Bank Stadium. The event will be held rain or shine and is free for all fans. Concessions, merchandise and restrooms will be available at the stadium.
Parking for the stadium celebration is free in lots F, G, H & J and will open at 9 a.m. No tailgating will be permitted in these lots. Fans may enter M&T Bank Stadium through gates A, B, C & D beginning at 10 a.m.

Who:
Super Bowl XLVII Champion Ravens players, coaches and staff
Baltimore Mayor Stephanie Rawlings-Blake
What:
Ravens Super Bowl Victory Parade & Celebration
When:
Tuesday, February 5, 2013
10:45 a.m. – Parade begins at City Hall
12:30 p.m. – Celebration festivities begin at M&T Bank Stadium
Where:
Baltimore City Hall (parade start)
M&T Bank Stadium (parade finish/celebration)
Governor Martin O'Malley issued the following statement on the Baltimore Ravens victory in Super Bowl XLVII:
"The Baltimore Ravens have proven that they are the team of destiny this year. We are incredibly proud of Coach John Harbaugh and our entire Baltimore Ravens team for bringing the Lombardi Trophy back to Baltimore.
"Our Ravens have provided an inspirational lift for all of us to reach beyond our dreams this season. They are the heart and soul of Baltimore, and fans across our great State are celebrating in the historic accomplishments of this team. We look forward to the Ravens homecoming and the parade in the days to come.
"Congratulations to Joe Flacco for being named Most Valuable Player. We also wish Ray Lewis well in his future endeavors, and we are forever grateful for what he has done for Baltimore for 17 years. Go Ravens!"