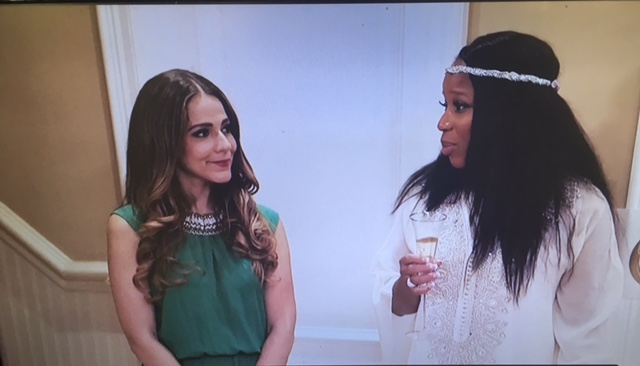 Real Housewives of Potomac 2: Episode 11 Bust a Move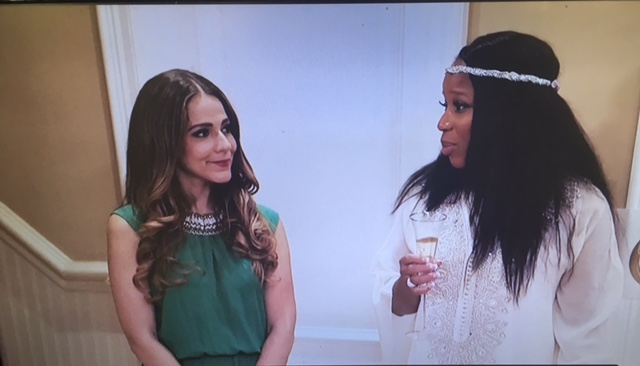 Whether moving out, moving up, moving on or moving in for the kill– it was a busy week in Potomac.
Well technically, the episode began in Bermuda where we left Karen last week snarling off camera with language usually reserved for a Compton street fight.
Bulletin: The etiquette police have left the building
Karen's tirade was the latest installment in the hostess wars which could actually be a reality show. The premise: two over-the-top, slightly maniacal hostesses who travel with a hair and make-up entourage try to outdo each other every week while hurling insults at one another. No one actually wins except the attendees who get free drinks and appi's while watching the circus side show that is the contestants.
But I digress.
After Karen separated the group by only inviting two of the girls to slosh around with the Japanese, Charrisse hosted a yacht party because that is apparently what the elite do in Bermuda. Unfortunately, the upper crust must have had previous engagements because the boat was filled with random guys like a floating episode of the Bachelorette.
The Love Boat turned into the Titanic as Charrisse and Karen went at it again sniping about net worth and Grand Dame status. All we know for sure is that bad hair extensions do not belong on the high seas.
No one took credit for hosting the outing to a cricket game, which Ashley mistakenly called Croquet. We are not sure Ashley is the sharpest mallet in the game. It is Charrisse's birthday. Woot! People, I swear mysterious scruffy men appeared again. Everyone looked sweaty and confused by both the overload of testosterone and the rules of the game.
I think one of our hostesses mistakenly signed the ladies up with a singles tour group because there are NO WOMEN IN BERMUDA.
None.
Anywhere.
In a touching montage of the ladies calling home to their abandoned families we found out two things 1) Hey Ashley the Smithsonian called and wants the circa 2000 flip phone back for its display. Seems her real estate mogul Ancient Aussie refused to spring for a real phone or an international plan because he doesn't trust her. Nevermind, Freud called and he wants his Daddy complex back and 2) Karen left Dr. Black Bill Gates to move the entire house in Potomac while she and her hairdresser enjoyed Island life. DBBG is either seriously in the dog house or just a really nice guy who has no idea how he got here, on national TV, being bossed around by his wife.
On the last night of vacay, after Dr. Karen reunited Gizelle and Monique, Robyn was propositioned by numerous perspiring, creepy men and Charrisse had banished negativity from her life to make room for more champagne, the girls had a pajama party. Well, everyone had on jammies except Ashley who looked like she was ready for whacky day at sleep away camp with a fringed top, leggings and knee-high socks.
And then, Mo' Money got her moment in the Bermuda sun. The girls asked about her derailed rap career. She gingerly wiped the wing sauce from her hands as she revealed that it never took off because she was not willing to sleep her way to rap fame.Then sampled a little for old times sake.
I was so moved, I wrote this little rap in her honor…
"Just because her rhyme is dope
don't mean you can do more than hope
Mo'Money will give you some on the side
That's whacked! So, she's rolling out like the tide"
Really, hold your applause… I'm blushing over here.
Anywhoo, as Monique enlisted the help of the group in preparation for her move to Potomac, there is much mystery surrounding Karen's covert move out of the 'hood. Sort of like when the Colts left Baltimore in the middle of the night, the ladies vowed to get to the bottom of Movegate.
Back in the 20854, Ashley was ready to ease on down the yellow brick road to her restaurant Oz, but the ancient Aussie was playing the Wizard. He fired her while she was trying to tame her hair in the humidity of Bermuda. He smoothed over this blow by saying he would rather be married to her than work with her. Or have her work for him. Or something HR related.
I think OSHA should declare working with a spouse as a serious occupational hazard.
As if a brief return to rap was not excitement enough for one episode, Charrisse was ready to unveil her champagne room. Wearing a white get-up and jeweled head band available today from Mumu's R Us, Charrisse invited the ladies over for the big event.
If you christen a ship with champagne, what do you use to christen a champagne room? I guess big scissors to cut the ribbon across the door and a bunch of sappy words about moving on and new beginnings. After listening to Charrisse babble about the bubbly I was ready for someone to smash open a bottle on her hull.
The room was nice enough, I guess, with a chandelier and some pleather chairs. Oh and champagne, lots and lots of champagne. Charrisse 2.0 is ready to celebrate even if it is all alone in her custom built champagne bubble.
The ladies confronted Karen about her clandestine move to Northern Virginia but I have no idea what she said in response because her hair was so distracting. Whatever she is paying that hair person, she needs a refund pronto. There were waves everywhere, some orange highlights and bangs that looked like Charrisse took those giant scissors to them after an hour or two spent guzzling in the champagne room.
Guess those details will have to wait for next week when Karen insults Ashley, the ladies desecrate the champagne reveal with drama and Karen hosts an Indian themed party everyone is "sari" they attended.
Stay tuned…