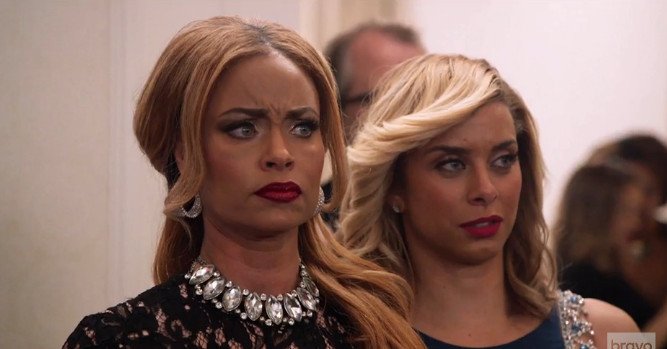 Real Housewives of Potomac 2 Episode 2: Tea It Up
It's really sweet of BRAVO to title each week's Housewives episode. It will come in handy when historians look back at how shallow and easily entertained people were back in the day. But realistically, they could just call every episode, "Another Public Brawl," and never have to brainstorm over catchy titles again. The bonus is they can use it for every franchise.
The gift that keeps on giving.
Speaking of giving, our Potomac ladies are a generous bunch. Just ask them. Last week, Ashley did a Bump n' Grind that would do R. Kelley proud, all in the name of charity. This week, we got a cameo fundraising appearance from my girl Katie Rost. RHOP vets cringed during season one as Katie fumbled her way through planning a big Casino Royale Night Gala. It is fitting that the charity is The Imagination Stage because Katie did a whole lot of dreaming and very little planning. She turned down help from all the gals, most recently Charrisse 2.0 who was maybe just too Zen to give a gala some zing.
Oh, how I miss my Katie-did and all the ways she didn't quite hit the mark.
Flash forward one year and hell hath no fury like a co-chair scorned. Ol' Katie had a target on her back as the crew showed up to gamble and grumble. For a girl that lives in Baltimore, Robyn makes it back to the 20854 on the regular.
Pre-gala, she lunched with Charrisse 2.0 at Ashley's restaurant, Oz. Since they were the only people for miles, it seems no one is following that yellow brick road. It is a hard sell–even for friends– when the road is paved with emu and camel. Over exotic inedibles, Charrisse 2.0 announced her impending divorce, smiled, channeled her inner Sha Sha and asked for more champagne.
Check please..
Back at the Gala, Charrisse 2.0 was the first to arrive. She was demoted from co-chair to wrangler as Katie thought Charrisse 2.0 was better suited to rustle up some high rollers from the world of professional sports. Sniffing her displeasure at the pedestrian affair, Charrisse 2.0 chugged champagne to prove she was classy. Or maybe she was trying to find her Sha Sha.
Anyway, Ms. Class herself, Karen, could-not-even with this event. I'm thinking the Grand Dame has short term memory loss. Only just that afternoon the class police would have had a field day with her tangerine outfit including ball cap. It screamed clearance rack and a few too many episodes of "OITNB" whiling away the time as an empty-nester.
Now, I don't think Gizelle is a gambler because she has no poker face at all. One of the best scenes of the night was watching the torture and shock play across her features as a hired trio performed for the sparse crowd. She looked like she smelled something bad, tasted something bad and then worried something bad was going to come back up all at the same time. It was the trifecta of disgust. If only Sha Sha had broken out into am impromptu rap and saved the day, #middleagerapisathing.
The highlight of the event (other than watching Katie imagine that everyone was having a marvelous time) was the introduction of the newest cast member, Monique Samuels. Charrisse 2.0 convinced the Samuels that this was a soiree not to be missed. It had all the ingredients: black tie, University Club in Washington DC and gambling for charity. Yet, somehow, it still looked like a Sweet 16 party in some suburban basement. No twinkling lights, no opulent floral arrangements just a giant table loaded with champagne glasses that resembled an alcohol infused version of Jengo. If you pulled one glass from the pyramid, would they all fall?
So, it's no wonder, really, that the former Washington Redskin Samuels and the Mrs. were the entertainment for the evening.
Apparently Ashley has been serving up too many wild animals at the restaurant; she literally pounced on the new flesh of Monique. Was this a preview of the Bi-Housewives of Potomac? If so, Monique wasn't feeling the vibe; dissing Ashley by not inviting her to Pure Barre with Robyn and Charrisse 2.0. After everyone got some endorphins going, Monique's assistant morphed into a cocktail waitress in yoga pants. The ladies sat around in their sweaty clothes and sipped the cocktails Monique had brought along. This gave Monique a chance to lament her first world problems like outgrowing her 9,000 sf home in Virginia and hoping to find something in Potomac. Enduring Katie's "starter" fundraiser when she herself had 900 people at another of her four homes to kick it up for the Samuels' foundation. Robyn was not enjoying the way Monique flexed her humble brag and changed the subject.
See, Karen and Robyn have been plotting. On yet another trip back to Potomac, Robyn was invited to hang out at Chez Karen for the first time ever. She doesn't know what to make of the invite and became more skeptical when Karen answered the door in another bad hat, served pastries fresh from a Safeway plastic container and invited her to play pool. Minnesota Fats can rest easy; these two are not going to challenge any pool shark records. Then again, Minnesota probably never had the handicap of playing in heels with a rain bonnet on indoors. The whole point of this meet-up was to discuss the feud between Gizelle and Charrisse 2.0 (which actually began when she was Charrisse 1.0)
Robyn is stuck in the middle of her two friends and Karen just wants to buy the world a Coke and sing in perfect harmony. So, they decided high tea at the Willard Hotel in DC is just the place to hash all this out. Robyn issued an unauthorized invite to Monique who has no skin in the fight. Karen doesn't like this but we know all cast members must be present for the big fight scenes.
The ladies all arrived one by one with some Kentucky Derby worthy hats. Except Karen, that is. Hideous hats are only worn at home, apparently. Gizelle and Monique squared off and the first round goes to Monique when she not only worked her four homes into the conversation yet again but SHE RAPPED.
It seems that Rapper Jordan is not the only mom-rapper in Potomac. Monique—we're giving her the rap name Mo' Money—sampled a little right there in the fancy dining room over crust-less sandwiches. She was no Rapper Jordan on her Hover Board but she got her groove on. I'm not sure anyone was buying the line that she gave up a music career to manage four houses and her husband's foundation.
Did I mention she has four houses?
Maybe it was all that rhyming. Maybe her hat was too tight or the tea too hot. But something made Gizelle up and apologize to Charrisse 2.0 for all the things she said while she was Charrisse 1.0. In turn, Charrisse swears she didn't mean to call Gizelle a whore on national television; it just slipped. I mean, we can all relate to that, right?
Could it be that they are not going to fight in public after all? Has there ever been a restaurant meal or drink in Housewives history without a brawl?
Nah, they are just messing with us until next week. Karen tead up the action by throwing Robyn under the Willard pastry cart and hinted that she was not loyal to long-time pal Gizelle. More than tea will be brewing on Episode 3…
Stay tuned.
Photo courtesy of BRAVO TV