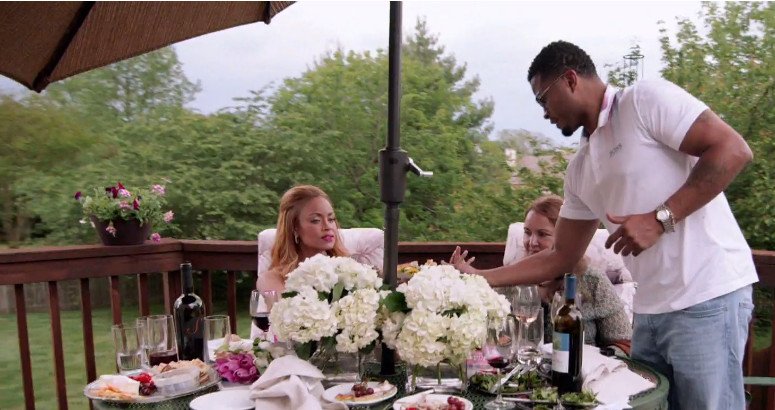 Real Housewives of Potomac 2 Episode 4 We are Family
"I got all my sisters with me…" And moms, dads, sons, estranged husbands, potential husbands and a therapist. Sister Sledge is raising the roof as family members are making cameos all over the 20854. It's like a reunion up in here.
First up, Mama Gizelle. Nothing is too good for Gizelle's mama visiting from Houston. Well, except parking the car and hoofin' it into the terminal to greet her. Gizelle circled the arrivals zone and once she spotted mama, slowed down long enough for mama to throw her crap in the back and hop in. Isn't that a fine-how-do-you-do? While scenery along the GW Parkway flashed by, the two women caught up but mama makes no bones about the fact that she wants new man Kevin to become part of the clan.
More about Kevin's cameo later.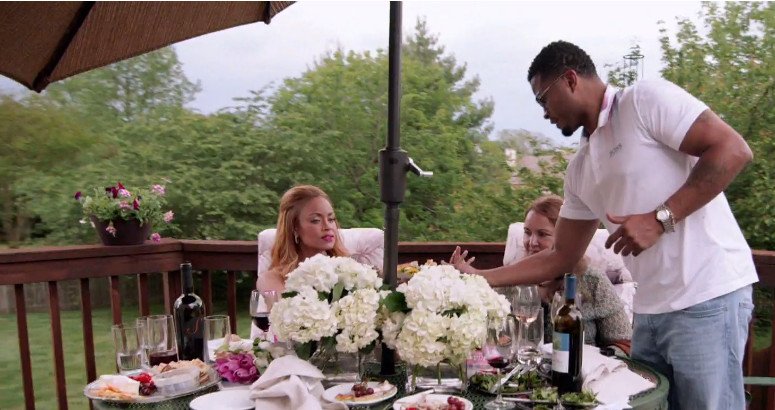 Is it possible that Charrisse has decided her champagne room should be outdoors? Which would, you know, make it a patio which is actually logical and increases house value. Ashley stopped by for a little al fresco visit and pretended not to slap at mosquitos in Charrisse's lush backyard. Truth is, lately Ashley has been acting like a pesky gnat that needs a slap herself. She keeps buzzing around everyone else's marriage when her relationship is the one that got bitten and now suffers from some rare Aussie infliction called "Down Under Doldrums."
The subject of a Sweet 16 party for Charrisse's daughter Skylar came up and Ashley morphed from gnat into blood sucking leech in a nanosecond. Her offer to cater the event through her failing restaurant was met with crickets and big gulps from Charrisse's champagne flute. Maybe the bubbles went to her head or the blazing sear of the mid-say sun, but Charrisse finally took her up on her offer. Here's hoping someone has Dominos on speed dial in case emu is not what all the cool kids are eating these days.
Monique joined the duo and had chugged only half a flute before whining about being misunderstood. Why are beautiful, rich people always complaining about misconceptions? Oh never mind, Monique laid it all out for us: She can't help it if her life is so fabulous that when she talks about said life she sounds like she is bragging. We common folk need to realize the struggle is real even if her reality is a million times better than ours. The only thing that could have made this rationale more ridiculous would've been if Mo' Money had an impromptu rap to go along with it.
Cameo #2 belongs to Robyn's parents who are basically everyone's parents and the most normal people to ever appear in a Housewives franchise. The backstory on Juan came out and we learned that both of his parents passed away when he was younger so Robyn's were surrogates. Even though they think he is Juanderful , they cautioned Robyn about marrying him again. Every time her dad spoke, I started to fantasize that this is actually a reality show.
Skylar's Sweet 16 had the mother of all cameo's, the much maligned Eddie Jordan. Except it was only sort of a cameo. It was more like someone had a purse-cam and transmitted grainy footage from the event to the hungry masses. And no one was hungrier than Ashley. She buzzed around Charrisse, nibbled on heinous sounding kangaroo sliders and asked to be introduced to the equivalent of "Big Foot in the Himalayas." The only big foot was in Ashley's mouth. She just wasn't getting that it was not a celebrity meet and greet, and Charrisse was not getting enough champagne to deal with Ashley acting like she was scheming to meet Justin Bieber.
The evening culminated in the presentation of Skylar's big gift. Any vet from MTV's series My Super Sweet 16 knows THE.REVEAL.IS.EVERYTHING. After a confusing speech, the guy from the Publisher's Clearinghouse commercials stops over with a giant cardboard check. Skylar looks a little confused (we feel you Skylar) because she is not getting money. It's a trip-check or a check-trip or something. Instead of a dollar amount the word Tahiti is inserted.
I'm no event planner, but maybe Charrisse's party guy could've put together a slide show of Tahiti or thrown in a couple of brochures from Costco Travel Services. Costco is only 20 minutes from Potomac if you take the back roads but they don't sell champagne. Damn.
Cameo #4 was Karen's mysterious son Brandon. During a romantic night out with DBBG (Dr. Black Bill Gates) we learned that Karen was married previously (we even get a Karen 90's flashback which we can never un-see) and had a son who was raised by DBBG. Karen met Brandon for lunch while confessing to the camera how close they are.
In the case of Karen and Brandon Joined at the Hip vs Common Sense, I present the following pieces of evidence:
Exhibit A: Brandon lives 20 minutes away and hasn't seen his mother in two months
Exhibit B: Brandon tells his mother that "the phone works both ways," implying she does not call him
Exhibit C: He looks completely creeped out when Karen says he can eat off "Mommy's plate"
So, the jury unanimously rules in favor of common sense but we still love Brandon because he asked the question every viewer has been wondering:
"Does dad even like being called the Black Bill Gates?"
We might be crushin' on Brandon almost as much as Robyn's dad.
Cameo #5 took us to Bowie, Maryland which is between Baltimore and DC (and not really near Potomac at all) to visit Gizelle's quasi-boyfriend Kevin. Mama Gizelle and Kevin have a mutual love affair which is uncomfortable to watch. He is hosting the ladies for dinner and, lawdy, can he put on a spread. Both Katie's Casino Night and poor Skylar's party could've gotten a boost from host-with-the-most Kevin. Flowers, homemade lobster Mac n' cheese and swag bags are on point. He even channeled Johnny Cochran's "if the glove don't fit, you must acquit" with his own tag line, "I have to know your life before I make you my wife."
Swoon.
Ashley invited all the ladies to a Hookah Lounge to huff and puff and blow etiquette down. Since it was BYOB, Monique showed up with enough wine to get her husband's football team toasty and pretty soon the brag was flowing like wine too. Monique had some sort of word quota with name dropping (the Obama's) and the cost of the wine she brought (expensive).Somehow she left out the fact that they toured a $5 million dollar home that had a pool like Charrisse's but no bathroom in the dining room like the house Karen rejected.
All of this narcissism was briefly interrupted as Charrisse began to speak in tongues and related bizarre facts about her sex life from high school through present day.
Please, somebody Hookah me up with a wine bottle, it's too much.
Speaking of too much, Gizelle was done with the Samuels Show and shut Monique down. Monique whines about Gizelle not accepting her and all her real estate. It's hard to get invested in this spat because both women were waving around cigars while everyone else was attempting smoke rings with the Hookah pipe like kids with bubble gum.
The show ended with an Skype session between Charrisse and her therapist wherein she relates that the reality of divorce is setting in. This was no Sister Sledge family moment and we feel for Sha-Sha/Rapper Jordon as her world gets a little smoky like the Hookah Lounge.
That's a wrap without a rap but we will see if they rhyme next time.
Photo Courtesy of BRAVO tv