Real Housewives of Potomac 2 Episode 5: Leave 'Em Juanting More
All this reality must be getting to me. So I'm just gonna' come clean and toss out this real question. Is anyone else having trouble following Monique and her urban dictionary dialogue? Our girl has gone completely Kanye on us and I'm not hip enough to follow along.
Episode 5 proves you can take Mo' Money out of rap but not the rap out of Mo' Money.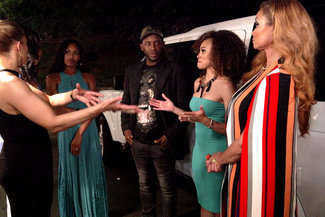 We opened with Monique getting prepped for a "Samuel's Cookout." Now, here in the 20878, cook out means casual. Like we might actually go crazy and use the good, sturdy Chinette paper plates with the little dividers so the juice from the baked beans stays put.
Amiright?
It seems former rappers and NFL stars have to go visit the event planner that produced their wedding before hosting a bar-b-que. They also use words like "bouje" (pronounced boo-gee) to describe the guests they have to invite because they are on the same show and contractually bound to fight over food. Urban dictionary tells me that bouje means uppity but I guess uppity is too bouje to use.
Got it?
Now Monique keeps telling us she is "extra"—slang for over-the-top—which might very well be the understatement of 2017. But currently vying for that "extra" crown is none other than Ashley. She has extra opinions on everything and extra words about just about everything too. In this case, Robyn is getting all that extra advice whether she Juants it or not. Robyn puts on her poker face for the ladies but it is clear she Juanders what will become of her on and off, in and out, up and down relationship with her ex-husband.
Ashley tried to convince Robyn that she too can be a Gold Digger (sing it Kanye) and find someone with money to appreciate her. Ashley's intent couldn't have been more obvious if she had slipped AARP magazine into Robyn's beaded bag. And not coincidentally, Robyn ordered a pain killer from the bar tender. Better gulp that puppy, girl.
Speaking of AARP, Karen's mother is 70 years old. Whoop! To mark the occasion Karen headed down to Richmond to celebrate. Richmond Karen is way more fun than 20854 Karen. Say whaaaat? Yes, it's like she aged in dog years when she headed north and crossed the Maryland state line.
Richmond Karen sports natural hair, bright yellow romper and checked her attitude at the border. We almost like her.
In Part II of Housewives' relatives we love, Karen's sister, Bridget, puts the dis on her sis. She rates her driving, wants Karen to hold the door and generally knocks her down a peg or 20. What's not to love? Karen's daughter Rayvin joined in the festivities with a random baby. The subtitles say this was Karen's friends' daughter; a friend who does not happen to be at the party, incidentally. Richmond Karen agrees to babysit your baby daughter in the middle of her dinner party. Potomac Karen would make a citizen's etiquette arrest. This makes us want to find a Richmond realtor for Karen since she is moving anyway.
Charrisse/Sha Sha/Rapper Jordan threw a bash for the NBA Wives Club and invited rich, athletic people. Given her marital woes, it would be natural to feel sympathetic toward Charrisse but all this talk about herself in the third person and the occasional British accent for added emphasis, make it harder.
The Samuels made an appearance checking both the rich and sporty box and they were joined by Robyn and her Juan and only. Monique skipped the Miss Manners chapter exploring conversation starters. She just goes with "That's enough about me, now what do you think of me?" as her jumping off point. Let the eye rolling ensue.
In a moment awkward enough to bring the tension through my 50 inch flat screen, Charrisse sort of alludes to maybe getting divorced and kind of having to maybe lose one of her names.
IN A BIG SPEECH ADDRESSING A ROOM FULL OF STRANGERS WHO JUST CAME TO HAVE CHAMPAGNE, WRITE CHECKS AND HANG WITH OTHER RICH PEOPLE PRETENDING TO BE HAPPY.
So, to lighten the mood they Juandered down to the full-size basketball court in the basement and shot around. Just like we do when things get intense at our parties; I have so much in common with these ladies. We are like "this." Really.
Maybe it was all those endorphins, but Juan agreed to make an appearance at the Samuel's Gala/Card Game disguised as a cook out. Without a checked table cloth in sight, Monique fixes to do some cooking in white lingerie with her hair in curlers. Like a mash up of "How Stella Got Her Groove Back" and "Beauty Shop."
Monique threw cheese on anything that wasn't nailed down while telling her friend, Gigi, that she doesn't mind hanging with these older women because they have knowledge to share. The only wisdom they are imparting is the silent plea for no more rapping in public places.
While Monique and Karen chatted about house rules for the big Spades game, Gigi morphed into the Spy Who Loved Me by eavesdropping on Gizelle and her friend Kal (with a K like the Kardashians) who were throwing "shade" on Mo' Money in her own kitchen.
If anyone deserved shade and serious disrespect it was Gizelle and her coat of many colors. If you are going to wear the equivalent of satin striped curtains over your shoulders, you need to keep your mouth shut.
Ashley was so happy that no one was forcing her to fake love Aussie food, she shoveled carbo loading side dishes in her mouth while spreading idle gossip about some serious Juandering ways. Robyn stressed again, that she and Juan are not a couple. They only live together, attend events together and are raising two boys.
The difference is so obvious. Get with it people.
Just as tensions were starting to flare out on the crystal laden patio, Mo Money started mumbling about her pastor, called Gizelle a "trick" and kicked her out. I don't know exactly what a trick is but I'm betting it's not hip for "that's a mighty fine cape you have."
One by one the ladies followed Gizelle to her car. Even Charrisse/Sha Sha /Rapper Jordan showed up to hang out in the driveway. When the hostess with the Mo-stess came out to investigate, BRAVO teased us with a continuation banner for next week.
Will Gizelle use her cape to fly outta' there? Will Ashley take Robyn's advice and put some non- National Geographic Outback food on the menu? Will Robyn confront her beau's Juanton ways? Will Mo' Money break the tension with a rap about corn bread?
We will be on the edge of our seats until Week 6
Photo courtesy of BRAVO tv