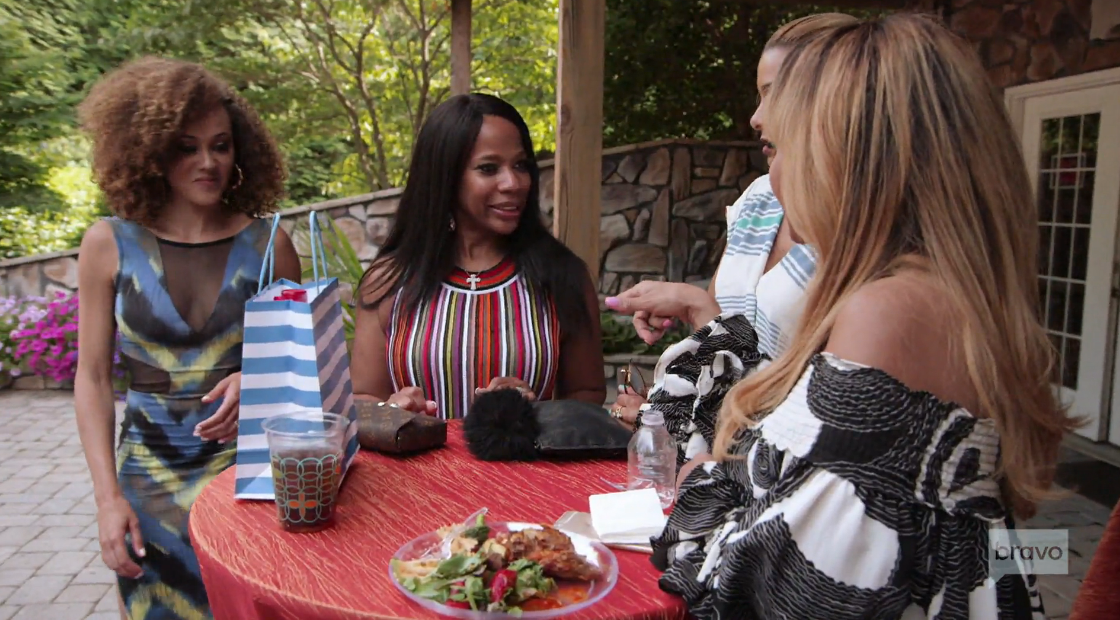 Real Housewives of Potomac 2: Episodes 9 & 10 Have Baggage Will Travel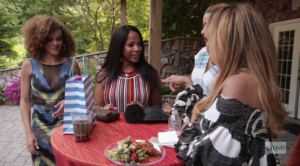 Thinking I was a slacker for skipping last week's recap? Well, shame on you and bite your tongue. Last week was basically one big buildup for this week's Bermuda trip, so I was hoarding my snarky summary for a recap two-fer.
The Potomac ladies are tired, ya'll. They are all running from something and hoping all the bad mojo will disappear in the Bermuda Triangle; never to be seen again.
Good luck with that.
This jaunt hit turbulence before take-off as Karen and Charrisse were unwilling to share the hostess crown. I have never had a vacation hosted by anyone other than my bank account so I'm not sure what it entails. I was waiting for them to arm wrestle it out but, sadly, it never transpired. The two did float around Charrisse's pool in their swim cover-ups and stare at the sky as if waiting for a tiara to appear in the clouds as a sign from the hostessing gods.
Charrisse has been analyzing the end of her marriage–and the excessive construction time on her champagne room no doubt—this season. How did Charrisse get her groove back? By chugging champagne while reinventing herself for her Match.com profile, of course. She also upgraded her Bermuda hotel room to one approximately the size of my house declaring it was her anniversary/divorce/don't-hate-me-because-my-ex-hasn't-cut-me-off gift to herself.
Speaking of expansive digs, Monique hosted a first birthday party for her daughter at their 26-acre, 5,500sf home at the lake. Expect that I will be qualifying all party announcements in the future with "at my 3,500sf home with zero lot lines."
Anywhoo, just like my kids parties, Monique invited 200 people, brought in a petting zoo, carnival attractions, valet parking and caterers. The one thing she missed? A helipad or airstrip so guests could fly over the notoriously snarled traffic on I-95 South on a Saturday afternoon. Oh and Gizelle. Two hundred guests and Gizelle could not make the cut. Ouch.
The traffic delayed everyone, leaving Monique to wander around her extensive grounds in a bejeweled, cutout bathing suit and skirt pondering why she was being punished for being rich and fabulous. Monique needed a vacay from the stresses of throwing $30K toddler parties and packing to move into her multi-million dollar manse in the 20854. (Actual square footage unavailable at press time but rest assured it will be highlighted repeatedly in an episode soon).
Gizelle Is another stresser that Monique can't shake. Mostly because Karen has on her Dr. Phil hat and keeps staging an intervention. Or 12. Or however many it takes.
First, she gathered Monique, Gizelle and Charrisse in a restaurant to hash it out. We all know more problems are created than solved when breaking bread, salad and Chardonnay with the Housewives. This meal exploded before the entrée right on cue leaving the pale, anxious waiter looking for an escape hatch.
For the trip, the Black Bill Gates pulled some ropes and set up a sailing excursion for three. Karen—I'm not a doctor but I play one in Bermuda—proudly announced to Monique and Gizelle that they were hand-picked to go sailing with her on the Japanese "American Cup" team boat. Which is great except it is actually the "America's Cup." You can tell the producers wanted to showcase her error because they gave us subtitles.
I think the red Solo Cup is officially the American Cup, but I know for sure it is not a boat.
Once aboard, the ladies were forced to perform some bizarre stop-drop-and roll drills while dodging the boom and trying not to pee their pants. Apparently, danger loves company because Monique divulged her fear of all things water and pretty soon Gizelle actually said she didn't want Monique to die. This admission is huge; like the Hatfields and McCoy's burying the hatchet just with more water. Karen's self-titled Grand Dame status was restored as Gizelle and Monique hugged it out right there with the confused Japanese team looking on.
NOTE: Up-tight, condescending, egomaniac Karen from Season 1 has staged an unwanted comeback. I'm thinking relaxed Karen conveyed like the appliances when she sold her Potomac home.
Karen is high tailing it– er hostessing—to Bermuda to forget that she is leaving Potomac and moving across the bridge to Great Falls, Virginia. This announcement was accompanied by a lot of babbling about being fabulous everywhere and expanding her empire but the truth is, this show should be called, "The Real Housewives Who Live Within a 50-mile Radius of Potomac."
Ashley and Robyn (aka just call me skip) didn't have enough drama to qualify for therapy on the high seas with Dr. Karen. Even though both women are in relationship limbo with Robyn refusing to repeat history with the Juandering eye of her basketball star and poor Ashley who got great reviews for her new anti-Aussie restaurant menu while her marriage was not exactly earning four stars. Ashley's cringe-worthy communication skills hit a new low when she asked of her haggard husband, "let me do my thing, chicken wing."
Clearly, Robyn and Ashley are adrift but Dr. Karen is not taking on new patients.
Proving they are not stranded ashore, they rented jet skis for the day with Charrisse. Robyn and Ashley left Charrisse in a spray of ocean foam while she puttered along muttering to herself like a grandma in the fast lane on I-495.
At the end of the day, no one was happy with Dr. Karen. Monique and Gizelle felt duped into a Kumbaya moment and bad wetsuits. Ashley and Robyn felt deserted. And Charrisse is too a hostess damnit, no matter what Karen says.
With the revelation that Gizelle is cutting Kevin loose, there will be only two Housewives in solid relationships. Ashley doesn't count because she is considering setting the Ancient Aussie free in the outback to roam with the dingoes. We got a glimpse of the fissures in their May-December romance as they awkwardly recreated the pottery wheel scene from Ghost with less enthusiasm and no sculpting talent whatsoever.
More drama and high socks to come in next week's continuation of the Bermuda vacation—stay tuned.
Photo: BravoTV