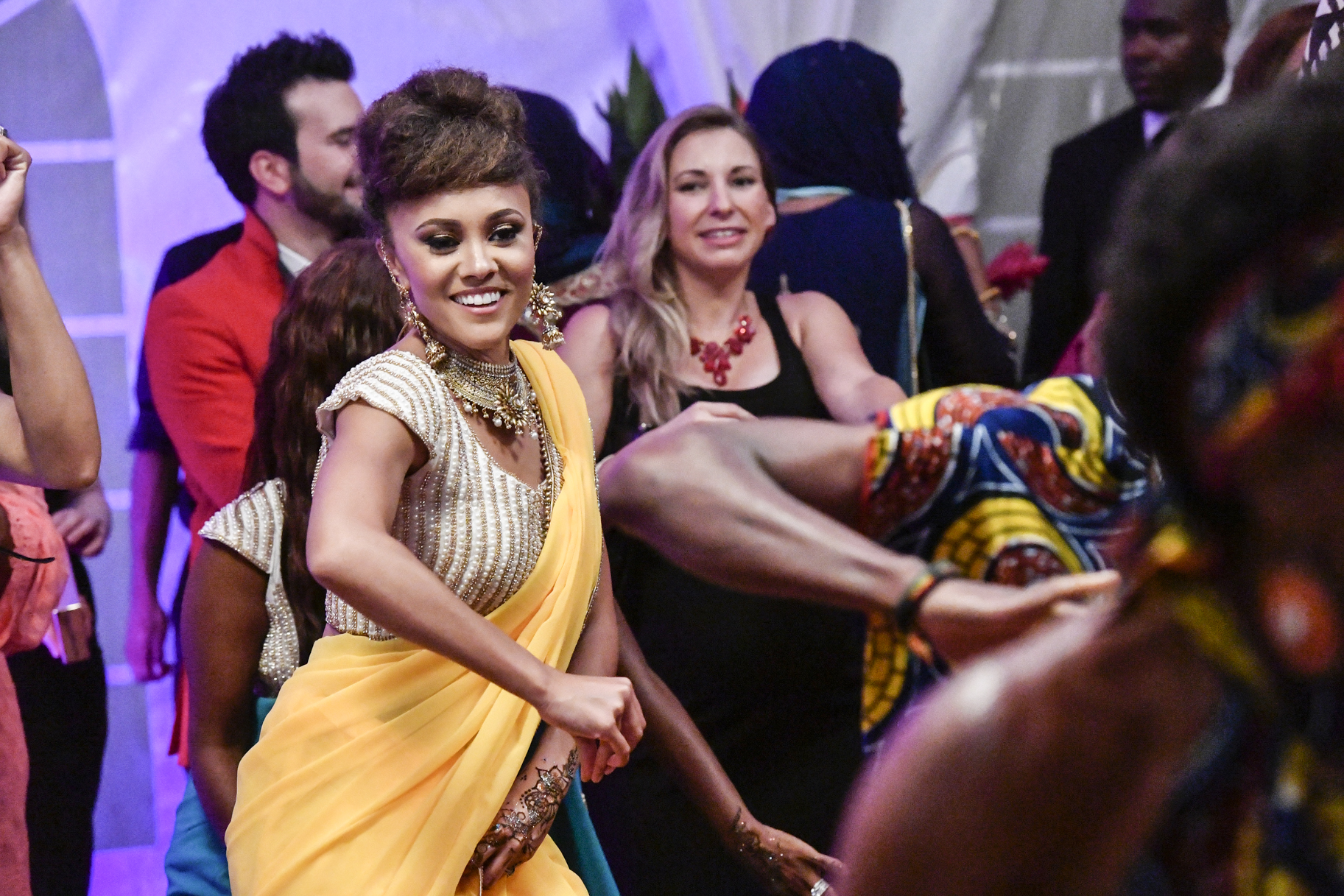 Real Housewives of Potomac 2: Season Finale
I hope you are getting your fix of fireworks somewhere, because there was nothing to ooh and aah over on the season finale of The Real Housewives of Potomac.
Last week, we left the 20854 still reeling from the debut of the overdue, over budget yet underwhelming champagne room.  And the way the ladies grilled Karen about her midnight move, it was surprising she didn't sequester herself in the plush interior and guzzle enough bubbly to straighten her hair.
Karen needed a diversion—and quick—from the firing squad so the Grand Dame hoped to hit a Grand Slam with her 20th Anniversary Indian/African mash-up party invite.
Ashley "Inquiring Minds Want to Know" was so relentless she got herself on the maybe list for mash-bash at Chez Huber Great Falls.  But like your average 13yo who got no invite to the sleep over, her FOMO spurred an apology with all the fake enthusiasm she could muster to try to change the mind of the Queen Bee.
Speaking of changing minds, Robyn Juants to figure out her relationship Juance and for all. Offering further proof that BRAVO Housewives are just like us, Robyn is decluttering and shocked at the number of old shoes in her kids' closets.  So, she sat with her box of shoes and a rag in her DREAM BELIEVE t-shirt and meticulously began wiping them clean. A blind person could have caught the symbolism in her trying to shine up something old before discarding it. But not our boy, he just Juandered into the room clueless and chillin'.
With Juanton disregard for all logic and reason, she copped to therapy sessions and the suggestion that she date but finally confessed that he is her Juan and only.  After this heartfelt exchange, they fist-bumped to show solidarity and re-commitment to their relationship for a 6-month trial. You know, real romantic, like buying an extended warranty on the microwave.
I don't think this is what Frank Sinatra meant when he sang, "Love is lovelier the second time around."
The Black Bill Gates is finally getting around to unpacking in their new, ginormous 9 bedroom, 14,000 sf home. Chez Huber is Gulliver and the Potomac house is Lilliputian in comparison which is raising some eyebrows amongst our gals.
The Samuel's are also making their mansion suitable for habitation most of which seems to revolve around Mo' Money adding mirrors all over the bedroom.  Think bordello chic instead of Boho chic.
But onto more important things, like rounding up some costumes for the "digging for more dirt about the move to Virginia event" disguised as an Anniversary Party.  Karen just kept repeating the word "exotic" when queried about the attire so the ladies went all out with Sari's and jewels. The poor Ancient Aussie tried to get into the spirit, but ended up looking like a geriatric Aladdin.
Perhaps no one gave it more thought and energy than Mo' Money. She heard "exotic" and mentally added the word "dancer" and planned her outfit accordingly. She headed straight for Party City and scanned the wall of costumes pics in search of the Slutty Pocahontas get-up. There were more feathers in her headdress than material in the dress.  The hostess was not amused by her literal interpretation of the Indian theme.
Once the hostess actually joined the party that is. The BBG and the Grand Dame holed up in another room engaging in a mutual admiration society while their guests mingled and wondered why there was no valet parking, food, drinks or furniture in sight. Even strategically placed Ficus Trees can't joosh up 14,000 sf of empty space.
And then, much like the Pope's long awaited appearance on the balcony of the Vatican to greet his loyal, faithful followers, BBG and the Grand Dame arrived. Standing high above the crowd and waving like a Homecoming Queen in America's heartland, our Karen never looked happier. It's almost as if she could not see the snark hanging like a mist below her threatening to shatter her carefully crafted façade.
Despite previews that teased a big reveal, the façade was firmly intact at minute 59 of programming. Belly dancers, African drummers and a Bollywood production number amounted to nothing but a cultural romp through Chez Huber's sprawling yard.
Karen did break down but not because her big secret was discovered, but due to a sweet Anniversary message from her mother who was too ill to attend.  Say what??
Making the Grand Dame look down to earth is just not playing fair, BRAVO. We don't tune in for nice or sweet. We want drama and back stabbing to make us feel better about ourselves.  Get with the program, please.
This program ended with each of our gals getting a spotlight dance and update on happenings since filming ended.  No new revelations there except Giselle is dating a professional athlete instead of Mom's sidekick- the asexual Kevin.
Sigh.
I remain optimistic that the Reunion next week with be a fiery one.
Stay tuned…