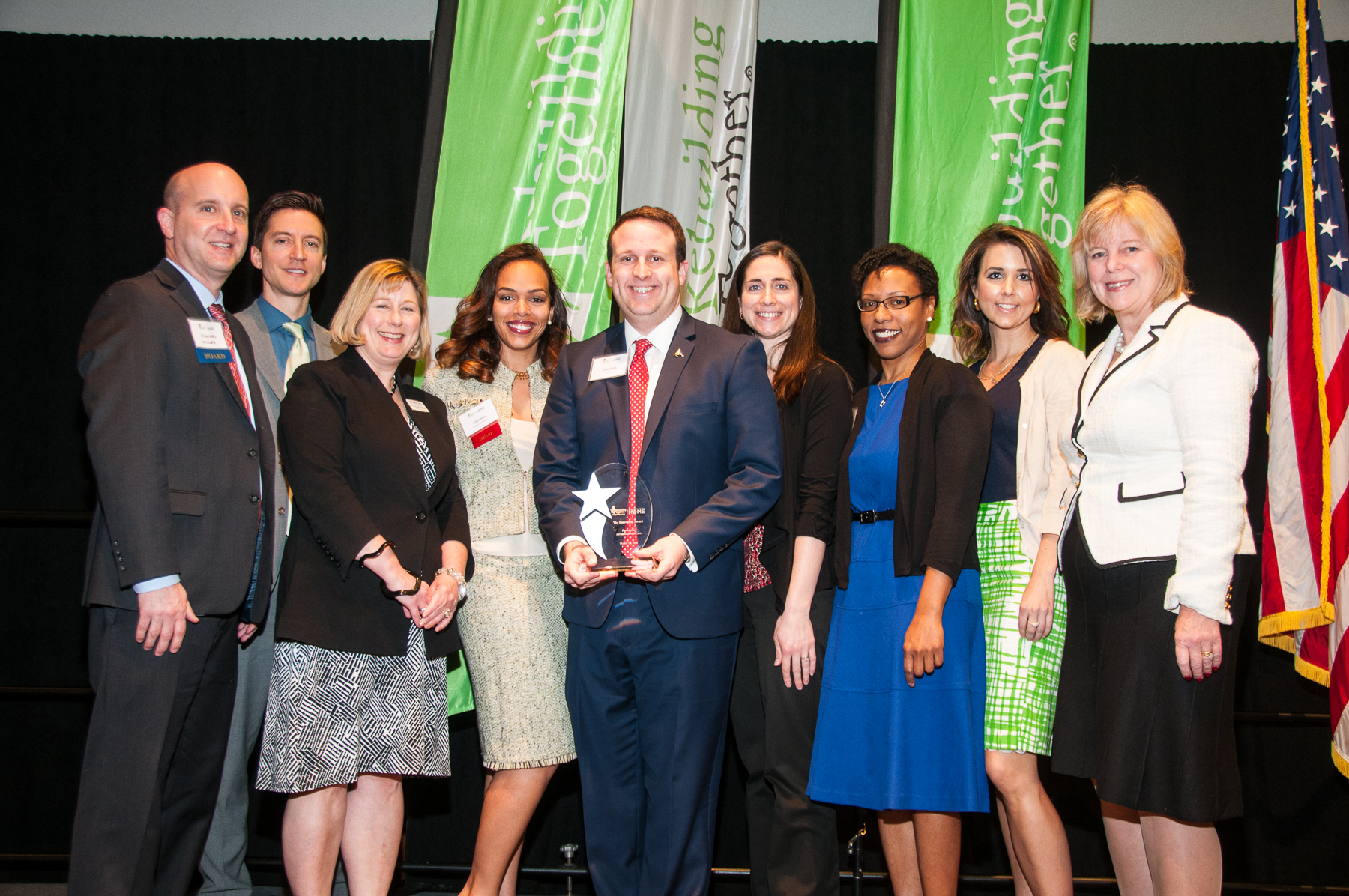 Rebuilding Together Montgomery County Honors Adventist HealthCare with Innovation Partnership Award (PHOTO)
UPDATED Adventist HealthCare is the recipient of Rebuilding Together Montgomery County's Innovation Partnership Award.
Rebuilding Together Montgomery County is a local non-profit organization that provides free home repairs for low-income seniors, veterans, and people with disabilities. According to a news release, the organization's Innovation Partnership Award recognizes a corporate partner for innovation and forward-thinking efforts to improve the health and safety of community residents.
Adventist HealthCare received the award on March 24 and was honored for their 10 year partnership with Rebuilding Together Montgomery County. Adventist HealthCare has worked with the organization to help provide free modifications and repairs for low-income seniors and also individuals with medical conditions. The repairs include, installing wheelchair ramps and handrails, overhauling bathrooms, and repairing plumbing leaks and drywall.
Rebuilding Together is also expanding their partnership with Adventist Healthcare Washington Adventist Hospital in Takoma Park. According to a news release, the partnership will now work to help identify discharged patients who are in need of home modifications, but cannot afford it. Adventist HealthCare will provide $25,000 to support home modifications for 12 patients through Rebuilding Together, over the next year.
"Given their commitment to overall public health and wellness, a partnership with Adventist HealthCare is a natural fit for our organization,"Christina Johnson, executive director of Rebuilding Together Montgomery County, said. "Their support of our work throughout the past 10 years has had an immeasurable impact on the lives of many of our most vulnerable neighbors here in Montgomery County and we are excited to see the wonderful results that will come from our new program with Washington Adventist Hospital," she said.
Terry Forde is the president and CEO of Adventist HealthCare.
"We are honored to continue our work with an organization like Rebuilding Together to further expand whole-person health beyond our walls and into the community," Forde said, "[our] partnership provides a unique opportunity to close gaps in healthcare and improve quality of life in the communities we serve."
For more on the organizations, visit the Rebuilding Montgomery County  or Adventist HealthCare websites.