Red Brick Court House Damaged by Heavy Snow (Photos)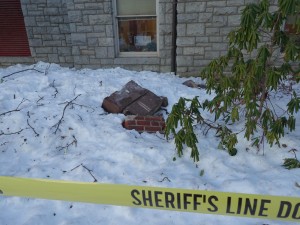 Montgomery County officials are overseeing building repairs at the Red Brick Courthouse, 29 Courthouse Square, in the city of Rockville, after some pieces of the historic building fell to the ground from the weight of heavy snow earlier this week.
General Services Director David Dise said crews shoveling sidewalks in the area heard a giant crash when a portion of the east wall fell to the ground on Monday. Dise happened to be in the area at the time of the crash, and even saw a few bricks topple to the snow.
A roof contractor is now working on setting up scaffolding at the historic building so workers can get a better look at the damage, and to anchor a tarp to protect the building's exposed attic space and rafters from water damage. According to Dise, one tarp was blown away by the winds earlier this week.
Dise said repairs will be needed to the roof but more inspections are needed to know the full extent of the damage. He said it is too early to know the cost of repairs because all the damage has not been assessed.  He did say that it was fortunate that the bricks and cap fell onto over two feet of snow as they may be able to be salvaged.
You can find out more about the rich history of the Red Brick Courthouse, which was constructed in 1891, here.
Peerless Rockville posted an update about this incident on its website, noting there was no damage to its offices or collections inside the Red Brick Courthouse building.