Register Now for Popular Gaithersburg 5K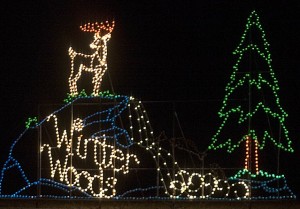 Registration for the "Run Under the Lights 2013" is currently open. This popular event typically sells out quickly. "Run Under The Lights" is a 5K run/walk through Gaithersburg's Winter Lights Festival in Seneca Creek Park scheduled for Nov. 23. Winter Lights features more than 380 illuminated vignettes and 65 animated displays. The event is co-sponsored by the city of Gaithersburg and the Montgomery County Road Runners Club (MCRRC).
The 5K Run Under the Lights will be chip timed for those who wish to compete. Advance registration is required. The fee is $30 until Nov. 7. The late registration fee is $35, valid Nov. 8 through 21. To register, please visit www.imathlete.com/events/RunUndertheLights.
MCRRC will be selling shirts and sweatshirts by pre-order only. They will be delivered at event packet pickup, which will take place at the Activity Center at Bohrer Park, 506 S. Frederick Avenue in Gaithersburg on Nov. 22 from 4 to 8 p.m. For more information contact the Montgomery County Road Runners Club at 301.525.7984 or visit www.mcrrc.org.
Winter Lights will open nightly as a drive through festival Nov. 29 through Dec. 31. Please note that the festival is closed on Dec. 25. Several Special Event nights are planned this year, including a Leashes 'n' Lights Dog Walk on Nov. 17, S'more Lights with trolley rides & s'more making on Nov. 24, and two Walk Under the Lights nights on Dec. 2 and 9. The festival will be closed to drive through traffic on these evenings. For festival hours, admission fees and more information visit www.gaithersburgmd.gov/winterlights or call 301.258.6350.