Requests to Use New Lakelands Field Roll In as Turf is Rolled Down
As workers roll out the turf at Lakelands Park, sports teams are rolling out the requests to play on the city's first organic turf field.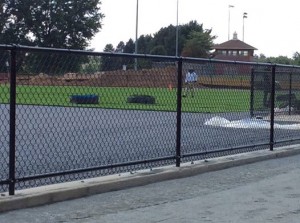 But, if you were thinking of getting a sports team on it this fall and you haven't already reserved it- forget it.
The city's first organic turf  field that doesn't officially open until Sept. 27, has already been reserved by teams, Gaithersburg programming and MCPS through Nov. 22, according to David Ludington, Gaithersburg's senior recreation supervisor. He said there may be some Sunday availability this fall.
"It's first come, first serve," Ludington said, adding however that teams that have already gotten permits for practice times at Lakelands Park field in the past will get priority reservations on the new turf.
Ludington said teams seem prepared to pay the higher rental of $100 an hour for residents and $120 an hour for non-residents. The person making the reservation must be a city-resident to be eligible for the resident fee schedule, according to Ludington. Gaithersburg Recreation and Parks Services Division Chief  Jim McGuire could not estimate the amount of income the field could generate for the city.
Montgomery County Public Schools has the use of the field from the morning through 5 p.m. followed by city programming,  according to McGuire.
The field in the city-owned park at 1368 Main Street, might be open for play by Sept. 13, Ludington said, but there will be an official ribbon cutting and grand opening scheduled for Sept. 27, McGuire told MyMCMedia Wednesday.
Starting Oct. 1, Ludington said he will be putting together a field reservation program for the winter months. He said some applications have already been made for times on the field. Gaithersburg does not have any programming on those fields in the winter so there are more time slots available.
"We have had a lot of requests prior to the start of this program for the use and I  am sure it is going to multiply with the new field," McGuire said.
The $1 million organic turf project is being installed using 100 percent organic coconut fibers, rice husk and cork instead of a black rubber fill. The project originally was to be completed before the start of school Aug. 25 but weather and technical issues has delayed its delivery.
To make a field reservation email Ludington at dludington@gaithersburgmd.gov.

Related: