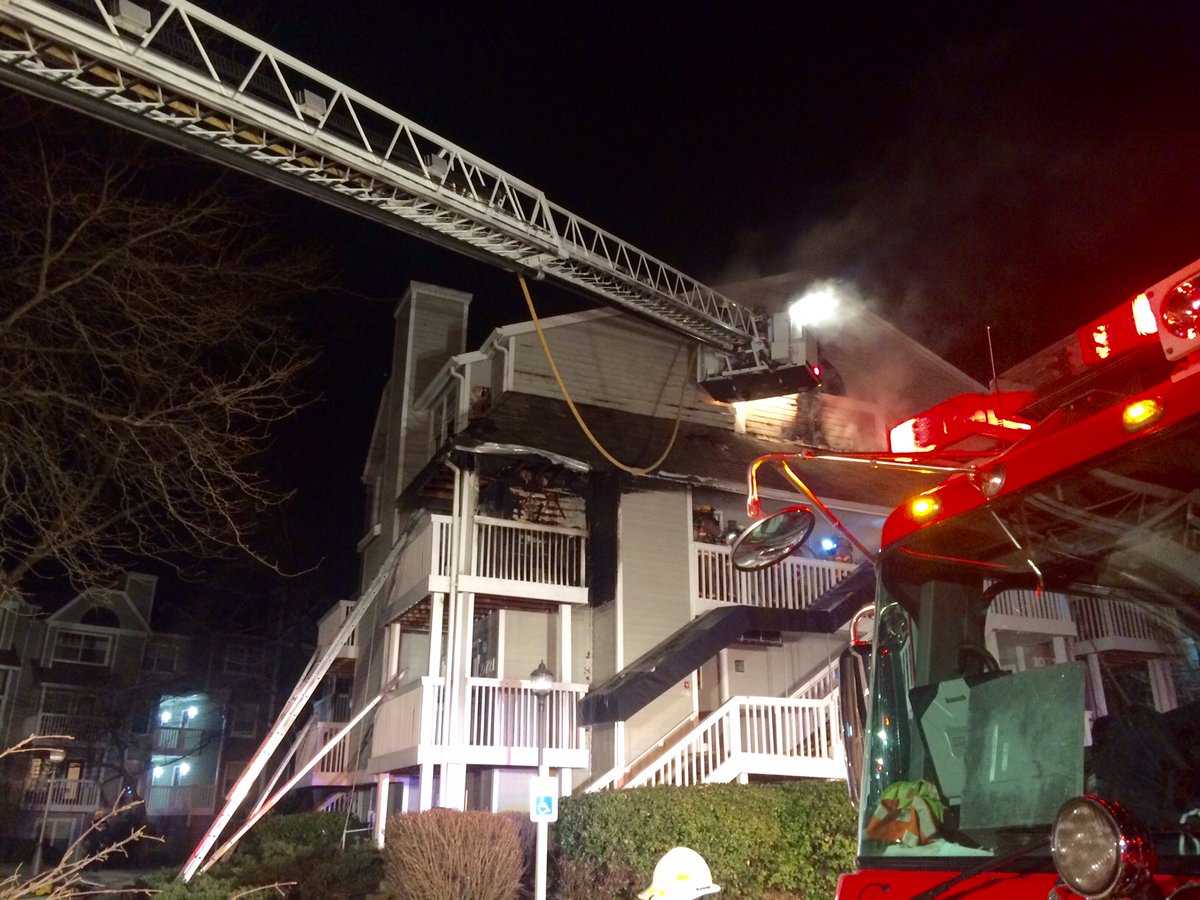 Residents Displaced After Fire in North Bethesda (VIDEO)
UPDATED A two alarm fire at the Gables on Tuckerman condominium homes in North Bethesda last night has displaced a dozen people, according to a Montgomery County fire official.
Fire and Rescue Services spokesperson Pete Piringer said the fire occurred around 8:30 p.m. at Hampton Mill Terrace in the third level of a building. The condominium homes are two levels. According to Piringer, it took about 100 firefighters 15 to 20 minutes to get the blaze under control and longer to reach the hot spots. He said flames extended to the fourth level attic.
Piringer said the building was safely evacuated, and there were no injuries. He said damages are estimated at $400,000. The cause of the fire was ruled accidental, he said. According to Piringer, the blaze was sparked by improperly extinguished smoking material.
According to Piringer, residents were sheltered in place at the complex's community center last night. The Red Cross was also on site to assist the displaced residents with housing.  For a while, a portion of Tuckerman Lane between Old Georgetown Road and Rockville Pike was closed for the fire department's response.
ICYMI (2/15, 815p) 2nd Alarm Fire Gables at Tuckerman, Hampton Mill Ter, N Bethesda,>75 FFs OS, several families displaced, >$400K damage pic.twitter.com/hAxP6q4WUG

— Pete Piringer (@mcfrsPIO) February 16, 2017
Gables/Wickford Apt homes, Tuckerman Lane & Sugarbush Lane, 2nd Alarm fire under control, several families displaced, significant damage pic.twitter.com/iOuILljfDQ

— Pete Piringer (@mcfrsPIO) February 16, 2017
Update – Gables @ Tuckerman, 10700blk Hampton Mill Ter; ~12 displaced; Damage >$400k; Cause improperly discarded smoking materials (balcony) pic.twitter.com/Ri44IjSOe6

— Pete Piringer (@mcfrsPIO) February 16, 2017
Traffic advisory – Tuckerman Lane between old Georgetown Road and Rockville Pike some lanes blocked, FD Activity pic.twitter.com/uFAV0beUHJ

— Pete Piringer (@mcfrsPIO) February 16, 2017
Update – Hampton Mill Ter, fire under control, fire extended into 2 apartments & attic area, several families will be displaced, no injury pic.twitter.com/3aDIWj9r5I

— Pete Piringer (@mcfrsPIO) February 16, 2017
Update – 2nd Alarm Hampton Mill Terrace, bulk of the fire has been knocked, fire under control, FFs checking for extension, no injuries pic.twitter.com/1T6wXD8czg

— Pete Piringer (@mcfrsPIO) February 16, 2017
2nd Alarm Fire Hampton Mill Ter, ~75 FFs OS pic.twitter.com/Y2vWBAZ7dI

— Pete Piringer (@mcfrsPIO) February 16, 2017
2nd Alarm Hampton Mill terr, Wickeford Apts, off Tuckernman Lane, 3 sty apt, fire on top floor/attic

— Pete Piringer (@mcfrsPIO) February 16, 2017
Flames now showing from attic area of this building. Firefighters at top of ladder truck using hose line to extinguish fire, only feet away. pic.twitter.com/hiRcEsABHV

— Kevin Lewis (@ABC7Kevin) February 16, 2017