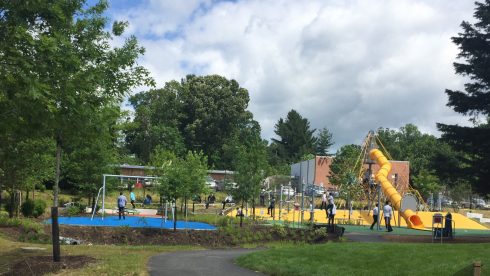 Residents Invited to Ribbon Cutting Ceremony for Reopening of Kemp Mill Urban Park on July 12
After almost two years of construction, Kemp Mill Urban Park in Silver Spring is available to the public and officials from the Montgomery County Parks Department are inviting residents to attend a special re-opening celebration on July 12.
The park was closed entirely in 2016 for renovations to improve the park amenities.
"The park had not been upgraded since it first opened in 1970 aside from a playground renovation in 2000," Melissa Chotiner, spokesperson for the Montgomery County Parks Department said. "Infrastructure was aging and the renovation incorporated numerous enhancements to the park."
Residents can expect a new water feature that replaced a pond in the park, an expanded playground, a basketball court and an observation deck.
Upgrades to the park costed a total of $6.5 million, according to Chotiner.
The ribbon-cutting ceremony will begin at 6:00 p.m followed by family oriented activities including face painting, pop up tennis, corn hole and giveaways.
Kemp Mill Urban Park is located at 1200 Arcola Avenue.
For more details about this project, click here.  
Activities, games, ribbon cutting, & MORE! Kemp Mill Urban Park Reopening Celebration Wed July 12 6 to 8:30 pm: https://t.co/CDme70PDXb. pic.twitter.com/zEb7sZYpYI

— Montgomery Parks (@MontgomeryParks) July 10, 2017