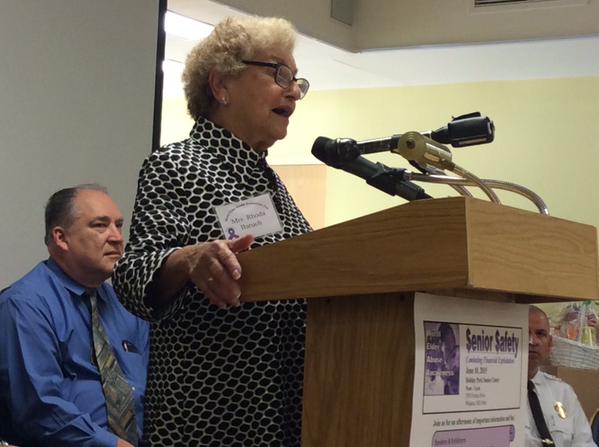 Resource Fair Helps Bring Awareness to Elder Abuse (PHOTOS)
Rhoda Baruch, of Chevy Chase, shared her experience as a victim of financial exploitation during the World Elder Abuse Day Senior Safety Forum on June 10 at the Holiday Park Senior Center in Wheaton.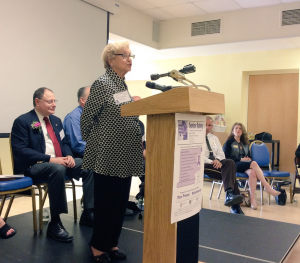 In front of a full house made of seniors, social workers, family members, law enforcement, county and state officials, Baruch said, "I'm not proud of this moment. I feel very foolish that I was made a victim. … I was very trusting."
Baruch had someone living in her house for five years. It was her aid, her helper as Baruch called.
"The first two years she had been hired to take care to my husband when she was in a very fragile stage and he died three years ago. Since then she became my aid. … This aid was so wonderful to me and so helpful and so kind that it was very hard for me to understand and to accept that she was the criminal," she said.
The helper withdrew $500 dollars from Baruch bank account on numerous occasions.
"She went to my purse. Took out my ATM bank card and withdrew the money," she said.
Data from a recent research shows that one in 10 older Americans is abused each year and that for every case reported there are approximately 23 that go unreported. The research also found that only one in 44 cases of financial abuse is reported, according to county officials.
According to a news release, a recent estimation discovered that elder victims of financial exploitation lost $2.9 billion in one year. In Montgomery County, the 60+ population exceeds 175,950 or about 18.1 percent of the County's total population of over one million and is increasing faster than the total population.
During this forum, more than 40 organizations participated in an effort to educate seniors and family members on elder abuse, neglect, exploitation, and financial exploitation.
Montgomery County Police Thomas Manger said the focus is on financial exploitation and asked residents to report and be vigilant.
"This is so important that we raise awareness about elder abuse, about the abuse of vulnerable adults everywhere and I think that when you hear the numbers of cases that come to our attention in comparison to the number of cases that actually exist you know how important education is to this effort," Manger said.
Baruch's former helper was arrested at the Canadian border and was brought back to Montgomery County.
"Police contacted the bank and showed the pictures of her aid at the atm machine. … I had been betrayed by somebody I was so trusting on. Somebody I needed so much, depended on so much. And it was a devastating moment in my life I even hate to think about it," Baruch said.