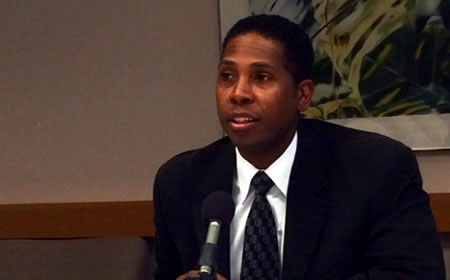 Rice Statement on District 5 Vacancy
Montgomery County Council President released this statement on Dec. 11 on the District 5 vacancy:
"Councilmember Valerie Ervin announced on Dec. 10 that she will resign from the Council on Jan. 3, 2014 to become executive director of the Center for Working Families. We wish her the best in this new position.
"Under Section 106 of the County Charter (shown below), the Council intends to appoint a new Councilmember for District 5 by Jan. 31, 2014 to complete Councilmember Ervin's unexpired term, which ends on Dec. 1, 2014. The Council intends to select a person who has shown a clear understanding of the issues that are important to residents of District 5. To assure a level playing field for all persons interested in seeking election to the next full term from District 5, the Council intends to appoint a person who does not intend to run for election to that term."
Excerpt from Section 106 of the County Charter regarding a vacancy on the Council in the final year of a term:

When a vacancy has occurred, a majority of the remaining members of the Council shall appoint a person to fill the vacancy within thirty days. An appointee to fill a vacancy, when succeeding a party member, shall be a member of the same political party as the person elected to such office at the time of election.