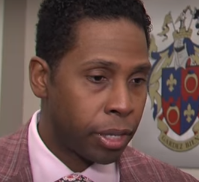 Rice Surprised to Learn of MCPS Radon Levels (VIDEOS)
Montgomery County Councilmember Craig Rice said he was surprised to learn of elevated radon levels in 26 schools and two MCPS buildings last week. That's because as the sponsor of a recently passed radon bill, he said, his staff previously asked the school district for information about radon levels and was assured there was not an issue.
Find out more in these MyMCMedia Extra videos, below:
Rice said parents are concerned about the elevated levels and he is helping them get the information they need.
So what's next? Rice is receiving daily updates from MCPS about radon testing at area schools, and, he said, it is understanding that any outstanding issues should be fixed by the beginning of next year.
When it comes to information, Rice said he is talking to MCPS Chief Operating Officer (COO) Andrew Zuckerman but Rice said he still does not know why the original radon test results were not followed up with remediation and communication to the public.