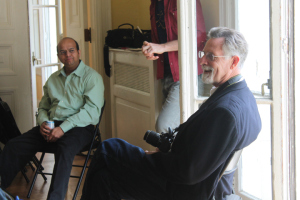 Richard Jaeggi Remembered as a "Community Hero"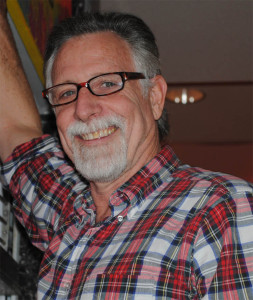 Richard Jaeggi, the beloved executive director of Gandhi Bridgade, passed away on May 25. The nonprofit youth media organization that he led posted an announcement of his death on its Facebook page. You can read the note here.
Funeral arrangements have not been announced to date but we are told that Gandhi Brigade's upcoming Youth Media Festival in Silver Spring is scheduled to continue as planned on May 31.
Stunned local leaders are remembering Jaeggi on social media today as a "community hero," who made an incredible difference in the lives of countless young people throughout Montgomery County.
We have posted some of their reaction below and hope you will add your remembrances as well:
"Richard Jaeggi was one of those rare, inspiring, generous beings. He left us too soon, but his light remains. Rest in Peace my friend – you gave so many gifts to our young people- we must continue the work in his memory." Nancy Navarro, Montgomery County Councilmember
"So saddened by the death of Gandhi Brigade leader Richard Jaeggi, an adult who adolescents wanted to follow because he was so cool." George Leventhal, Montgomery County Council Vice President

"Very sad to hear of the passing of friend, Richard Jaeggi, Exec. Dir. of Gandhi Brigade, and the most passionate community advocate." Alan Bowser, Silver Spring
"I think a lot of you know Richard Jaeggi and what a wonderful person he was…He will be sorely missed. I worked with him for years, watched him nourish the Gandhi Brigade and stream of youth who became a part of it over the years. He was such a tireless champion for children and helped them give voice to what they thought about the world around them and of their place in that world. He was a wonderful advocate,I don't think I ever saw him not smiling, and he was infectiously enthusiastic and passionate about this labor of love he'd embarked on. And then there was the amazing ball of fire making it's way through this Rube Goldberg contraption he and his buddies made, that marked the New Year with a glorious fire that went off in the back yard. I'm sorry he's gone, but his work will surely continue. We will all miss him and remember him." Marc Elrich, Montgomery County Councilmember
"I am so sad to hear that our community hero Richard Jaeggi passed away today. Richard was an inspiration to me and someone we could all see making a real difference day in and day out. I often pondered his remarkable decision to devote himself to helping young people live better and fuller lives, and I have wondered what personal sacrifices he made to fulfill his dream. Every community needs people like Richard to fit the pieces together. He always made me feel nostalgic in a sense, for a time when people were perhaps more idealistic than today. I worked hard to support his efforts at the Gandhi Brigade, as did my colleagues at the County Council, and while he will leave a tremendous hole I am confident that the community he brought together will know how to keep moving forward on the work he has been doing. I will miss you Richard. Thank you for everything." Hans Riemer, Montgomery County Councilmember
"What heartbreaking news. Richard made such a difference in the lives of so many, and made Silver Spring stronger by living out his vision. And his warm and generous personality made him such a joy to be around. What a loss for all of us, and a challenge to make sure his work continues." Tom Hucker, District 20 State Delegate
"I am deeply saddened by the passing of Richard Jaeggi, a friend and amazing community leader. When I was a producer at CNN, RIchard asked me to mentor a group of high school students in the art of journalism and video production – students who were part of his new nonprofit after school program, named the Gandhi Brigade. Since then he and I fought to support our community nonprofits and create safe environments for our youth. Richard – you will be missed." Evan Glass, Silver Spring Citizens Advisory Board