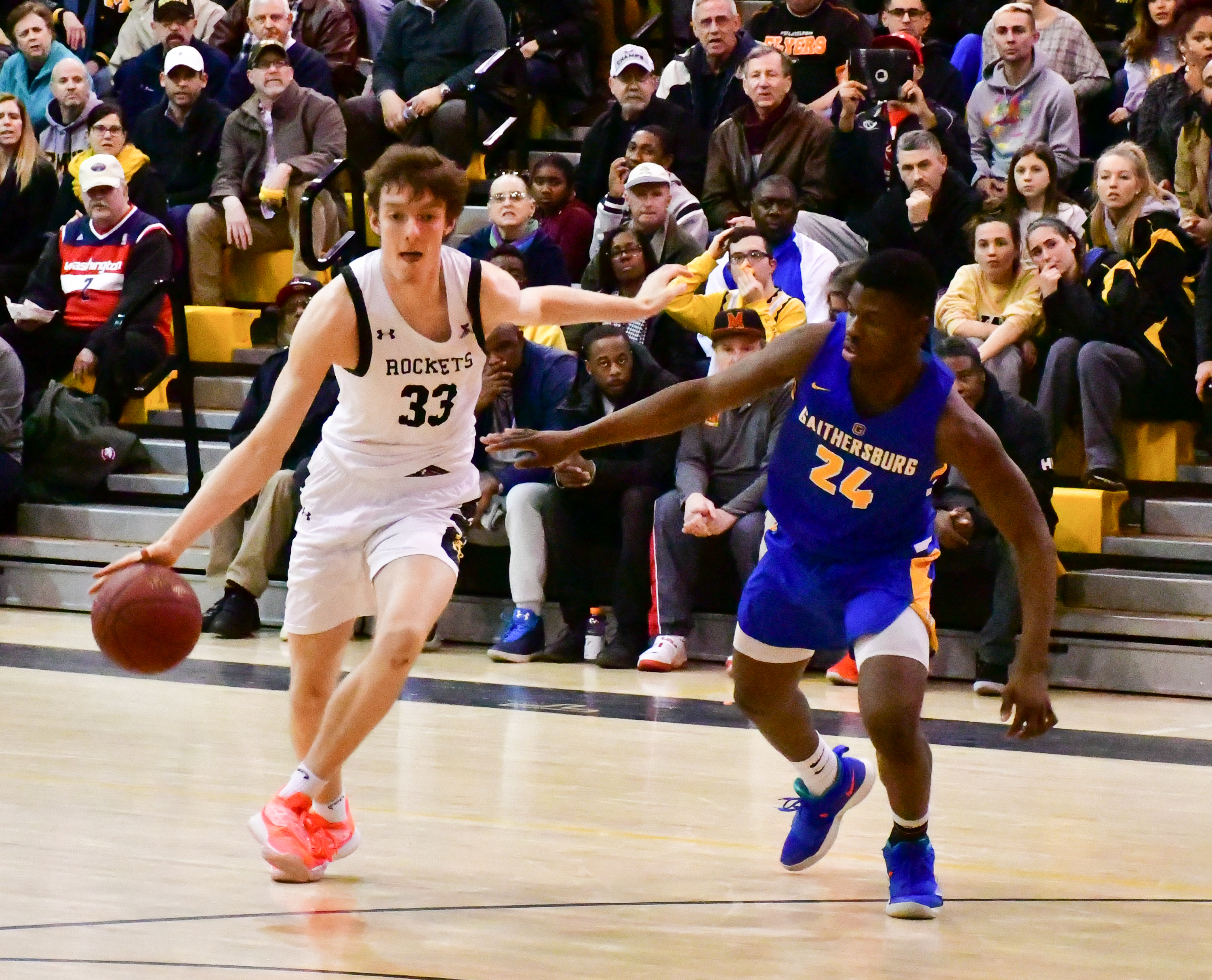 Richard Montgomery Moves On With Thrilling OT Win Over Gaithersburg
Rockville Maryland, Richard Montgomery High School, March 6th 2019
The two best boys basketball teams faced one another Wednesday night to prove who was the best in the Montgomery County 4A West division.  The regular season between the two resulted in home wins for each team.  The only loss this season Richard Montgomery suffered was at Gaithersburg.  The game Wednesday night would settle an argument and propel one team to the 4A West Regional Championship game on March 9th.
The game was played at a frantic pace throughout regulation and the overtime periods. Turnovers and missed easy shots seemed to plague each team.  Neither team had more than a five point lead, and the third and fourth quarters ended tied 35 and 47 respectively. The game was sent into overtime when #3 sophomore point guard Ryan Cornish was fouled and he coolie made both free throws.
In overtime all eight Rocket points came from #3 Ryan Cornish who finished the game and lead all scorers with 20 points.  When Cornish made two free throws to again tie the game in overtime at 53 all there were 16.9 seconds for Gaithersburg to travel the length of the court to win the game.  The Rockets were in a zone defense and as #25 Jao Ituka (17 pts) was double teamed at the top of the key his shot was tipped and recovered by the Rockets and the outlet pass goes to, you guessed it, #3 Ryan Cornish.  As time is running down and Cornish is racing to their basket he was only one shot away from winning the game in overtime.  The basketball drops through the hoop, the buzzer sounds and the game ends as the Richard Montgomery students rush on the floor to celebrate with their basketball team.
Richard Montgomery plays Walter Johnson at 6 p.m. Saturday for the 4A West Regional Championship.
Pictures to follow by Daryl Schultz