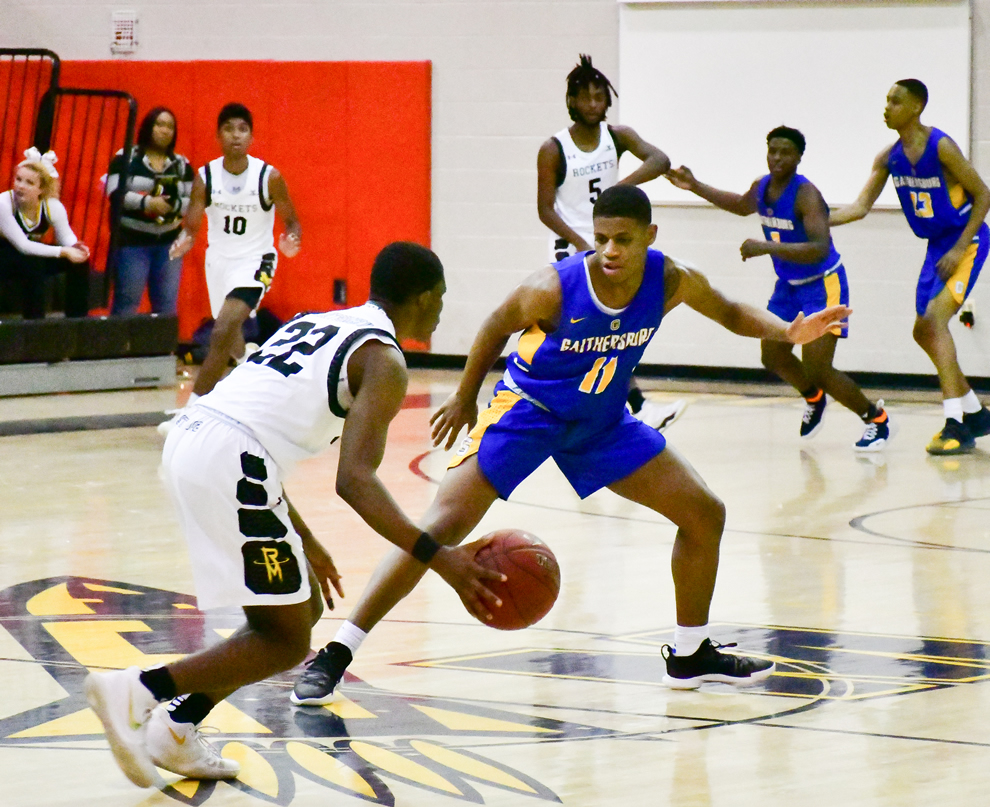 Richard Montgomery Remains Undefeated with Win Over Gaithersburg
The early season clash between undefeated Montgomery County 4A basketball teams proved the Rockets of Richard Montgomery are for real with a convincing 70-65 win at home Friday night, Jan. 4.  Richard Montgomery is on everyone's radar and no longer under the radar of any county coach that faces the Rockets in the weeks to come, The see-saw contest in the first half ended with a three point Rocket lead 36-33. The close game at the half was fueled by an aggressive man to man defense.  RM's three quarter court pressure created turnovers and extra chances during the first half.
The second half saw a resurgent Gaithersburg offense lead by #23 Jordan Hawkins, #25 Jao Ituka accounting for 18 of the Trojan points scored in the third quarter.  The score at the end of the third quarter had the Trojans on top 54-49.  As the fourth quarter unfolded Gaithersburg was plagued by turnovers and not being able to finish easy chances around the basket.  Add foul trouble by key Gaithersburg players lead to a lack of scoring which is deadly in a close contest against a very good and very balanced Rocket team.  The Trojans only scored two points in the last three minutes of the game.
Richard Montgomery has flown under the radar this season. Their victory over Gaithersburg has put the county basketball teams on notice the Rockets of RM are the best at this point in the season.  Upcoming opponents must understand the Rockets won't beat themselves, they are a solid team that makes you make mistakes.  The RM scoring is balanced, they shoot well from the free throw line and their half and full court pressure will make you rush and take bad shots.  The Rockets now have the enviable position of being the undefeated county team with a bullseye squarely on them.  Every opposing coach will tell their teams, RM is good but it is our night to end their undefeated season.
Good luck to the Richard Montgomery Rockets as they continue the quest for the elusive undefeated season.
Scoring in double figures for Gaithersburg
#25 Jao Ituka 26 points
#23 Jordan Hawkins 21 points
Scoring in double figures for Richard Montgomery
#3  Ryan Cornish 21 points
#33  Miles Gally 21 points
#11  Djoidje Orcev 15 points
Pictures to follow by Daryl Schultz