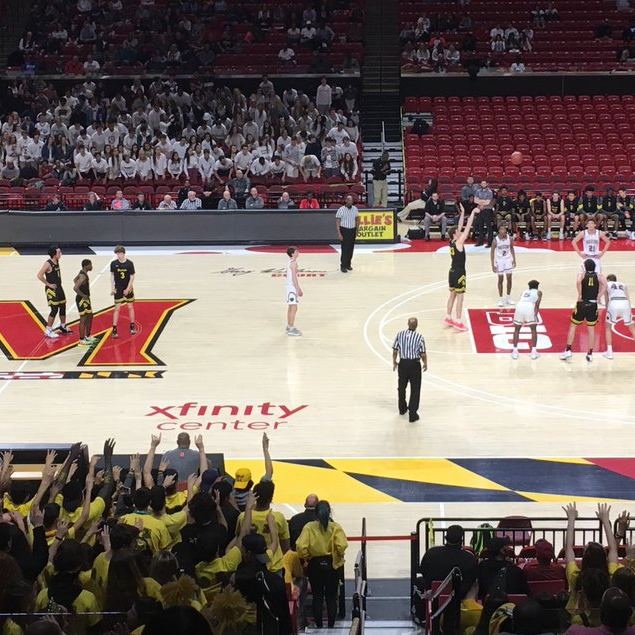 Richard Montgomery Rockets Grounded in Maryland 4A Semifinals
The Richard Montgomery boys' team had only one loss all season heading into the Maryland state 4A semifinals against Broadneck. The Bruins from Annapolis used their size advantage for a convincing 72-57 win over the Rockets (24-2) at Xfinity Center, the home court of the University of Maryland Terrapins.
Che Colbert and Logan Vican led the Bruins with 19 apiece. Kordell Lewis led the Rockets with 18 points.
Broadneck advances to the state 4A finals against Roosevelt on Saturday at 8 pm at Xfinity Center.
Thank you @RM_HoopsSquad pic.twitter.com/MC46YjJ1am

— Damon Monteleone (@RMHS_Principal) March 15, 2019
Richard Montgomery @RM_HoopsSquad press conference after losing to Broadneck in 2019 MD 4A semi's at Xfinity@GallyMiles @DjordjeOrcev @rcornish21 https://t.co/p35lAhybl6

— Capitol Hoops (@CapitolHoops) March 15, 2019
A Rocket starting us off right at the STATE Semi-Final Game! Amazing job, Nyrene! #RocketsRockIt🚀 pic.twitter.com/CUImpclVf0

— Robin L Wheeler (@MsWheeler_RMHS) March 15, 2019
Rockets Representing! #RocketsRockIt🚀 pic.twitter.com/sxz35qSOvG

— Robin L Wheeler (@MsWheeler_RMHS) March 15, 2019