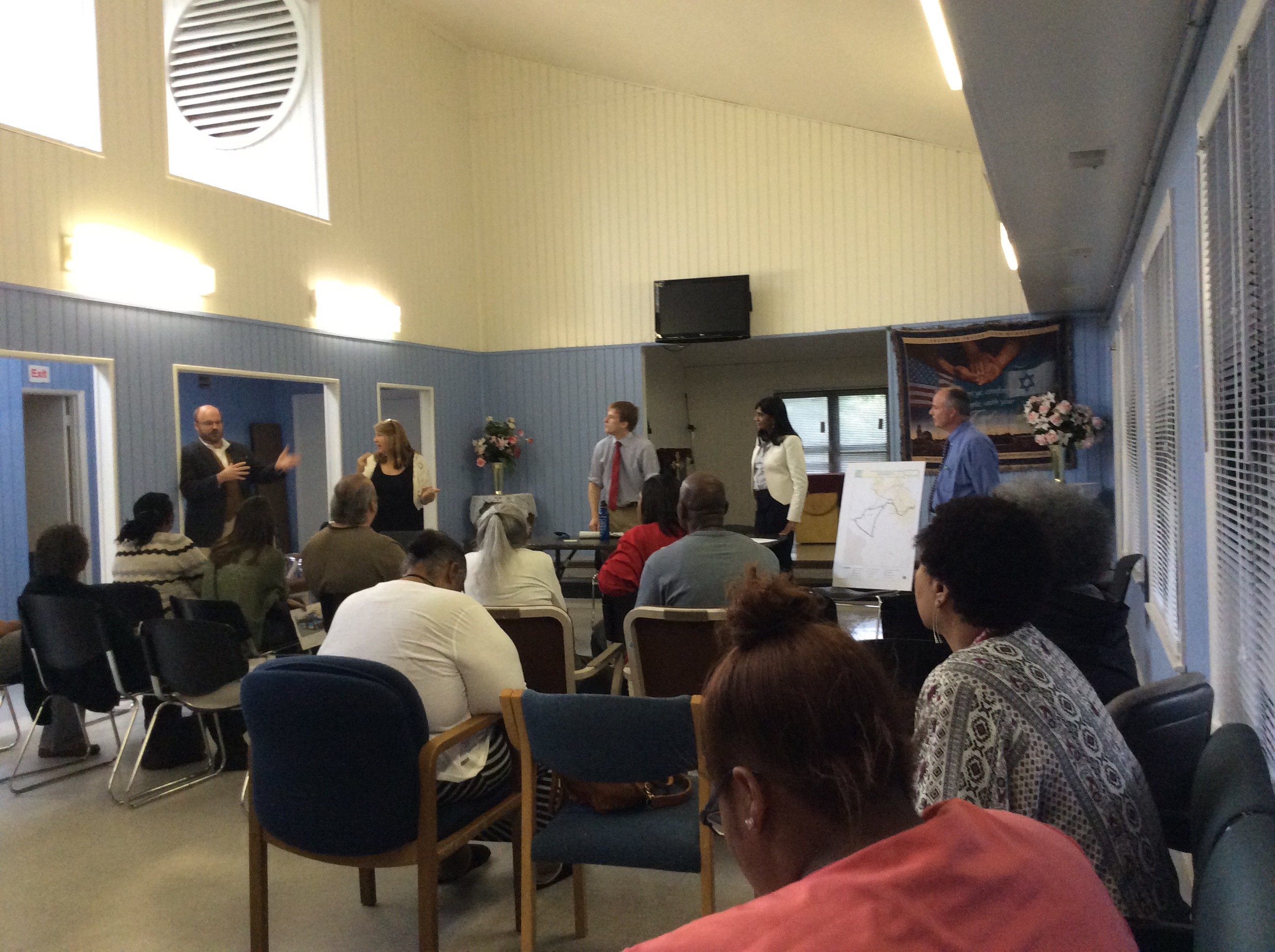 Ride On to Operate Proposed Tobytown Shuttle Service (PHOTOS)
UPDATED At a meeting held by officials on Monday, Tobytown residents highlighted concerns that they have with the current proposed shuttle service that is being considered by the Montgomery County Council.
Representatives from Councilmembers Roger Berliner and Sidney Katz's office, Ride On and Delegate Aruna Miller outlined the proposed plan in detail for residents and discussed concerns.
Montgomery County Executive Ike Leggett's current proposed plan states that one bus, operated by a contract with the Jewish Council on Aging, would run every 60 to 75 minutes during morning and evening peak periods with three or four round-trips. Councilmember Berliner proposed for an all-day service that would run seven-days a week at a recent Transportation, Infrastructure, Energy  and Environment (T and E) committee meeting.
For Tobytown resident Mary Wilson, contracted service was a key concern about the plan. "In my mind we were getting this Jewish Community Bus and this what they were giving us and that was it," Wilson said.
Phil McLaughlin, Ride On operations and planning chief, reassured residents that the service would in fact be a Ride On service contracted out to the Jewish Council on Aging. Drew Morrison, legislative aide to Councilmember Berliner said that Ride On is involved in planning, operating and branding of the route.
Other issues raised included the cost effectiveness of the plan, moving the shuttle stop closer to Tobytown, and creating a shelter for the bus stop.
"Are you saving money or are you wasting money by getting this contractor?" James Martin, Tobytown resident, asked. "It's like you're already starting off wasting money by getting this bus that's smaller, looking special, when there's a bus already coming to Travilah Road,"  Martin said, referring to Ride On's Route 67 bus stop.
According to McLaughlin the cost of extending the route would be more than the proposed shuttle service. 'We looked at that as an option," McLaughlin said. "It's actually a little more expensive for us to do directly," he said, because more busses would have to be added to service Tobytown along with community along the current route, McLaughlin said.
McLaughlin also said that the contract plan allows flexibility and can be adjusted over time.
As for the next steps, Morrison says the Council's T and E committee will meet again Thursday to discuss and finalize the Tobytown shuttle service proposal before it's taken to the full council for a vote. According to Morrison, the proposal will need five votes to pass.
So far, Councilmembers Berliner, Katz, Nancy Navarro, and Nancy Floreen have stated their support for the proposal. Councilmember Tom Hucker voted against the recommended plan at a recent T and E committee meeting.
For more information on the County Executive's proposed plan, visit the County Council's website.
An example of what the proposed shuttle would look like. @mymcmedia pic.twitter.com/WxRCGulmqI

— Maureen Chowdhury (@MediaMaureen) May 2, 2016
Officials are meeting with Tobytown residents to talk proposed shuttle service today. @mymcmedia pic.twitter.com/eI46ANjAG8

— Maureen Chowdhury (@MediaMaureen) May 2, 2016