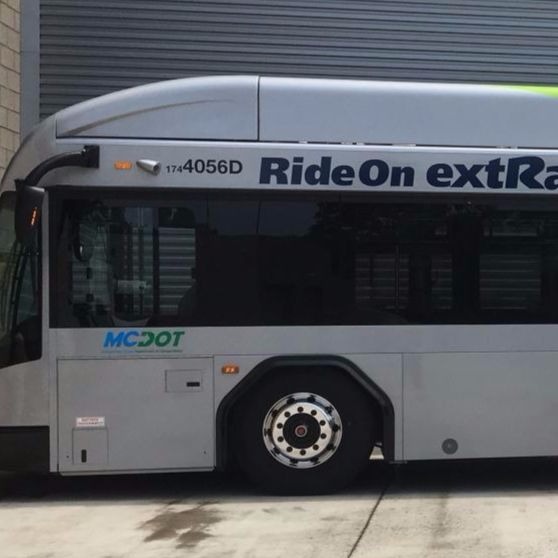 UPDATE: Ride On's New ExtRa Service Will Provide an Express Bus Along Route 355 (VIDEO & PHOTOS)
Updated 8.14.17 Montgomery County Executive Ike Leggett joined Montgomery County Council President, Roger Berliner, and other county leaders on Monday to announce a new bus service aimed to alleviate the amount of cars on one of the county's "busiest corridors", according to Leggett.
Beginning on Oct. 2, Ride On's ExtRa Buses will provide a limited stop service from Lakeforest Transit Center and Medical Center Metrorail Station by making 12 stops along the route instead of 80.
The news buses are equipped with USB ports, WiFi access, extra padding on seats and real-time information displays on screen.
Here's a look at the new buses:
Original 7.26.17 Ride On will add a new service between Lakeforest Transit Center and Medical Center Metrorail Station that begins on Oct. 2.
The Ride On ExtRa service (Route 101) is a limited stop that offers faster service along state Route 355.
Instead of 80 stops along the route, this new service will make 12 stops instead, according to a news release.
The service only takes SmarTrip cards, passes and cash.
Below are more details about Route 101:
Faster service along state Route 355.
Stops include: Lakeforest Transit Center, Summit Ave., Westland Dr., Shady Grove Metro, Montgomery College, Rockville Metro, Edmonston Dr., Halpine Rd., Marinelli Rd., Security Ln., Tuckerman Ln., and Medical Center Metro
10 minute frequency of service during peak rush hour periods
Brand new and different buses with low floor boarding
Buses feature Free WiFi access, USB charging ports, information displays, and extra padding on seats
Runs only during peak periods – Monday-Friday, 5:30-9:30am and 3:30-7:30pm
Regular Ride On fare
Traffic signal priority for this service
Connection to 50% of the transit services network including the MARC rail, MTA buses, Metrobus, Metrorail, and 44 Ride On routes
For more information about this service, visit Ride On's website by clicking here:
Get ready! Ride On extRa is coming our way in October! https://t.co/14uff4TRsK

— Ride On Bus (@RideOnMCT) July 25, 2017