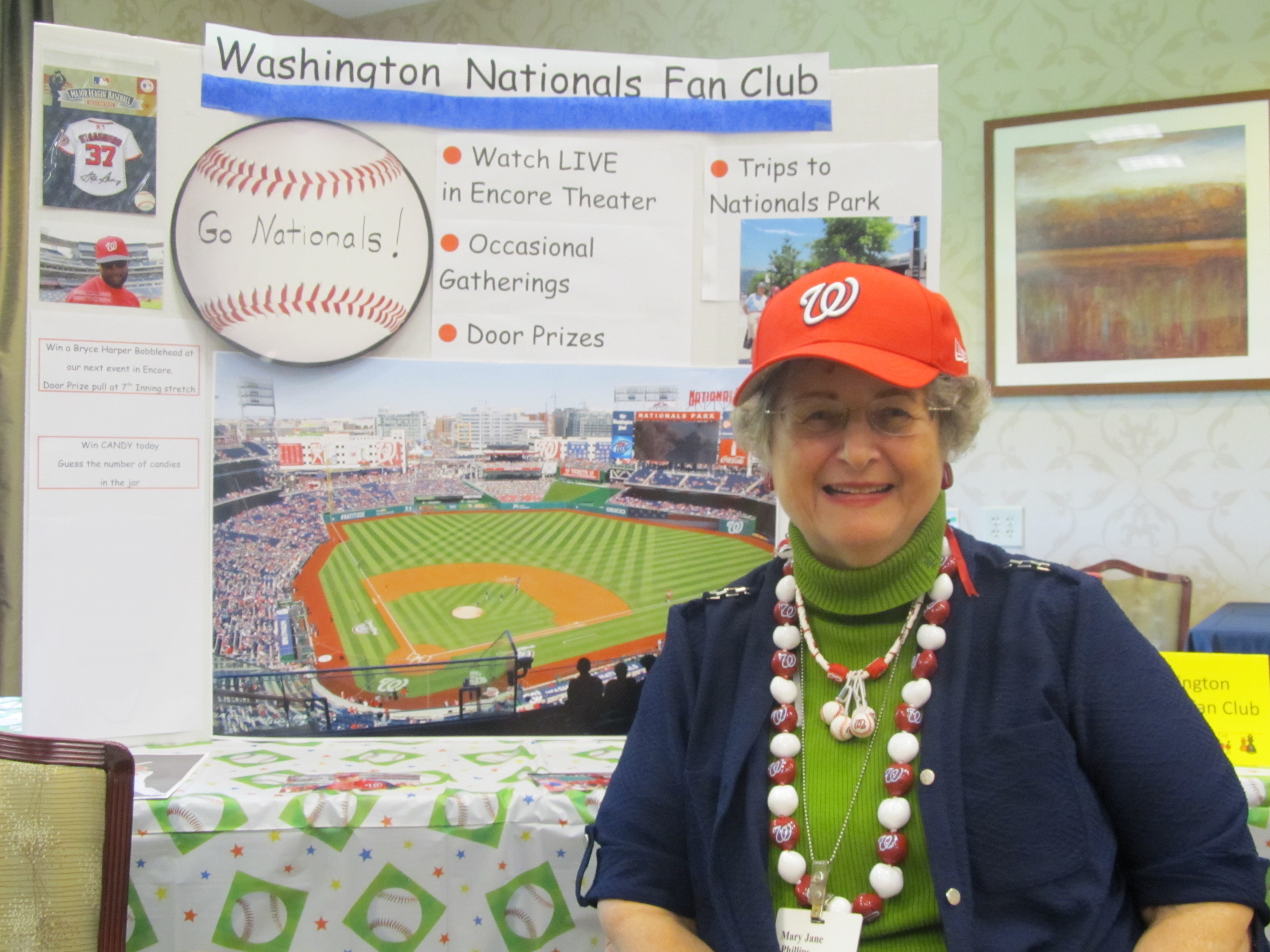 Riderwood Residents Have "Natitude!"
When Mary Jane Phillips was a youngster, rooting for the Washington Senators baseball team was a family affair.  With her parents and sister, she would listen to every radio broadcast, pulling for her favorite player, third-baseman Eddie Yost.
Nearly six decades later, Ms. Phillips' dedication to major league baseball in Washington is on full display with her fellow residents at Riderwood, the Erickson Living retirement community in Silver Spring.
In the spring of 2014, Ms. Phillips brought "Natitude" to Riderwood, forming the Washington Nationals Fan Club.  The group periodically watches television broadcasts of the Nationals in the Encore Theater and attends games at Nationals Park coordinated by Riderwood's Special Trips Office.
As the Nationals are on the verge of clinching the National League Eastern Division title, it has been a special inaugural year for the club, one of 250 resident-led groups at Riderwood.
"With my family, baseball was a major part of my life.  Now, being at Riderwood has allowed me to connect with new friends through the prism of the sport I love.  We share our memories of baseball games past but we're able to root for today's players," described Ms. Phillips, a season ticket holder.
"I've been fortunate to attend many of the Nationals recent home openers.  A favorite was in 2013 when Stephen Strasburg pitched wonderfully and Bryce Harper hit two home runs in their victory," recalled Ms. Phillips.  "That day really made me reflect on how much I've enjoyed following baseball in Washington throughout my life."
For years, she waited for the Senators to have a winning season, and as a teenager, she even wrote to the Washington Post to evaluate their coverage of the team.  She was naturally saddened when the franchise moved to Minneapolis.
But the current Washington baseball club has brought her joy in retirement, and the fan club will attend the team's final regular season game on September 28th versus the Miami Marlins.
"Remembering Eddie Yost, I've enjoyed watching Ryan Zimmerman make sparkling plays at the hot corner throughout his career," said Ms. Phillips.
With both the Nationals and their American League rival Baltimore Orioles cruising toward the playoffs, October promises to be an exciting month with intriguing local potential.
"We are really looking forward to the post-season.  I can dream now that there might even be a World Series between the Nationals and the Orioles," said Ms. Phillips.