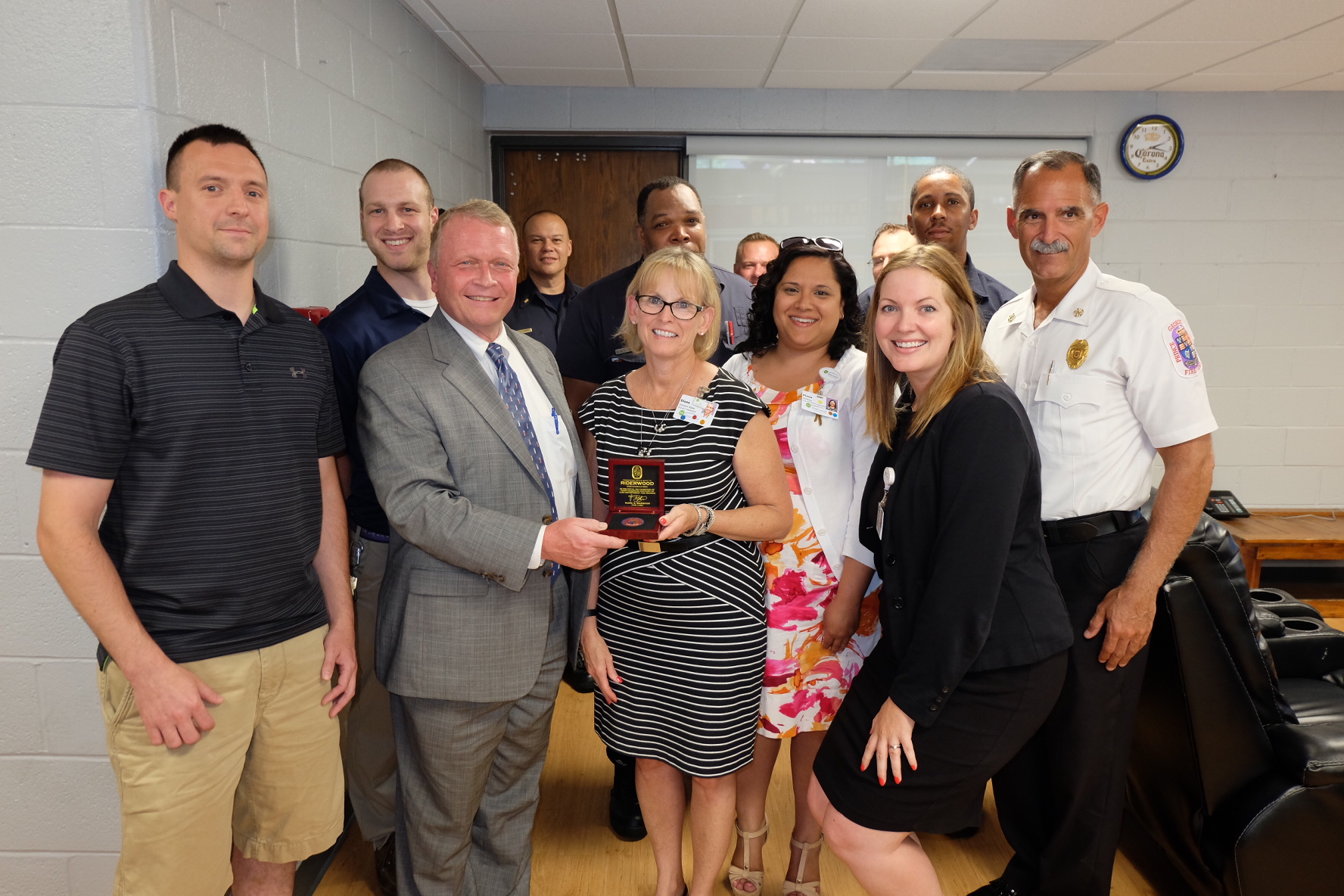 Riderwood Says Thank You to Calverton Fire/EMS Station 841 Through Kitchen Renovation
Riderwood retirement is uniquely located!  About half of its campus resides in Montgomery County, while the other half sits in Prince George's County.  The result is that the community enjoys strong partnerships with government agencies and elected officials in both jurisdictions as we serve our residents.  Here's one story of how employees…and our vendors…showed their appreciation for the work of our local firefighters and EMS personnel.
When it comes to answering the call of duty, residents and employees of Riderwood retirement community have always been able to count on the Prince George's County Fire Department.
Specifically, Calverton Fire/EMS Station 841 located on nearby Powder Mill Road has partnered with the Riderwood Security Team to provide emergency services when needed at the Erickson Living retirement community's 120-acre campus.
To show appreciation for that long-standing relationship, employees and vendors associated with Riderwood took on a project of their own.
They shared their creativity, expertise, labor and supplies to renovate the kitchen and lounge area of Calverton Station 841. Starting in early June, the group did demolition work, painted walls, hooked-up appliances and installed drop-ceiling tiles, lighting and flooring.
Eddie Bharucha, the Customer Service & Communications Manager at Riderwood, coordinated the project with employee volunteers and the staff from three area vendors: Business Flooring, Inc., Cypress Contracting and Hacker Painting.
The estimated worth of the project is $20,000.
On July 8, a celebratory "reveal" took place at the fire station. Project leaders and the Calverton Station crew were joined by Prince George's County Fire Department Chief Marc S. Bashoor for a brief ceremony and refreshments.
Gary Hibbs is the Executive Director of Riderwood. He attended the event and talked about the value of having the dedicated team of firefighters and EMS personnel from Station 841 so close.
"The safety and well-being of our residents is at the top of our list in creating the foundation for a great community and a great life for each resident," said Mr. Hibbs. "This partnership with our neighbors goes a long way in cementing this foundation firmly in place."
Riderwood employees are encouraged to seek volunteer opportunities that serve the surrounding community.
"Our dedicated team recognizes the dedication of our neighbors at Station 841. The generosity of our employees and vendors demonstrates a genuine, heartfelt appreciation for all they do to help us in our mission to create a vibrant life for those we mutually serve," noted Mr. Hibbs.