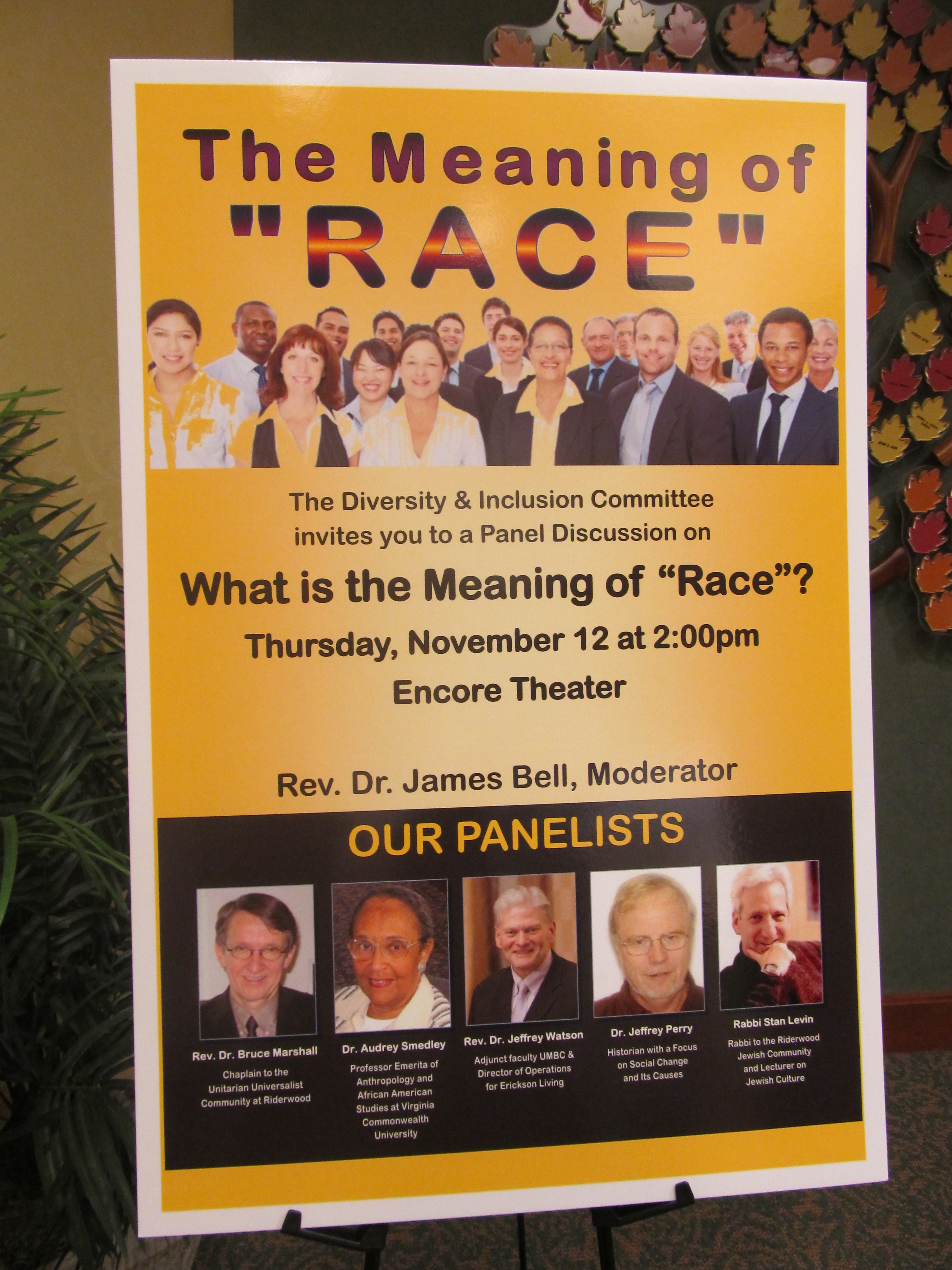 Riderwood's Diversity & Inclusion Committee Hosts First of "Breaking Barriers" Series
The Diversity & Inclusion Committee of Riderwood hosted the first of a four-part series on "Breaking Barriers" with a panel discussion entitled "What Is the Meaning of Race?"
Over 200 residents and guests attended the event on November 12 at the Erickson Living retirement community's Encore Theater.
The distinguished five-member panel consisted of:
Rabbi Stan Levin, Rabbi, Riderwood Jewish Community and lecturer.
Rev. Dr. Bruce Marshall, Chaplain, Unitarian Universalist Community at Riderwood and author.
Dr. Jeffrey Perry, independent historian and author.
Dr. Audrey Smedley, Resident of Riderwood, Professor Emerita of Anthropology & African American Studies at Virginia Commonwealth University (VCU) and author.
Rev. Dr. Jeffrey Watson, Adjunct Faculty, University of Maryland Baltimore County (UMBC), Director of Operations for Resident Life & Philanthropy at Erickson Living and author.
Rev. Dr. James T. Bell, Pastoral Ministries Coordinator at Riderwood, served as the moderator for the discussion, which featured a scholarly, theological and historical overview of the definition of "race" in world history, particularly as it relates to the United States.
The panelists also talked about the role of economic power in creating the concept of "race," examples of modern day institutional racism, the importance of eliminating stereotypes and future goals for 21st century American society. Following their presentation, the panelists took questions from attendees.
Joyce Turner, a resident of Riderwood, is the co-chair of the Diversity & Inclusion Committee. "We are very proud of not only the substantive quality of the first event, but also the high turnout and engaged audience," said Ms. Turner. "This series enhances the signature programs created by our Committee."
She noted that future panels in 2016 will highlight Dr. Martin Luther King, Jr., women who have broken historical and professional barriers and those who cope with physical barriers in their daily lives.