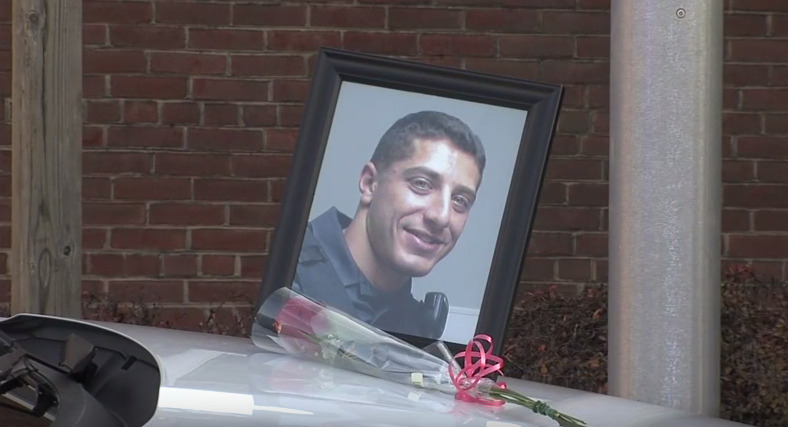 Road and Office Closures for Police Officer Noah Leotta's Funeral
The Montgomery County Police Department has announced some road and office closures related to the funeral of Police Officer Noah Leotta today.
From approximately 8 a.m. to 2 p.m., the section of Muncaster Mill Road between Shady Grove Road and Woodfield Road, where Covenant Life Church is located, will only be open to those people attending the funeral. Through traffic will not be permitted.
According to police, there will be congestion and delays on roadways surrounding the area of the church before, during, and after the service. People not attending the service are advised to avoid the area.
The procession to Judean Memorial Gardens will depart from the church at approximately 1:15 p.m. The procession will take approximately one hour to arrive at the Judean Memorial Gardens, which is located at 16225 Batchellors Forest Road in Olney.
Following the service at the church, the procession will take the following route to the Judean Memorial Gardens:
Travel southeast on MD 115 (Muncaster Mill Road)
Turn left onto Bowie Mill Road
Turn right onto Route 108 (Olney Laytonsville Road)
Turn right onto Georgia Avenue
Turn left onto Batchellors Forest Road
When the procession begins, all roads along the procession route (see above) will be closed for the duration of the procession.
From approximately 1:30 p.m to 3:30 p.m., northbound Georgia Avenue from Route 28 to Emory Lane will be reduced to one lane. Expect delays.
In addition, the county's Animal Services Division is closed until 3:30 p.m. because of the funeral.
We gather to honor Officer Noah Leotta, end of watch: December 10, 2015. May Noah rest in peace. pic.twitter.com/YILjlDPHmO

— Montgomery Co Police (@mcpnews) December 15, 2015
Motorcade escorts Montgomery County Police Officer Noah Leotta, Killed-in-the-Line of Duty, to funeral at Church pic.twitter.com/vNQ2j4X3xg

— Pete Piringer (@mcfrsPIO) December 15, 2015
We gather to honor Officer Noah Leotta. pic.twitter.com/g4Y5OSM7ze

— Montgomery Co Police (@mcpnews) December 15, 2015
Mont Co Animal Services Division is closed until 3:30 today due to Officer Noah Leotta's funeral. — Montgomery Co Police (@mcpnews) December 15, 2015
ICC/MD 200 exit ramps to northbound MD 97 may be temporarily closed at times during the procession. #mdtraffic https://t.co/XqVupWqztj

— MDTA (@TheMDTA) December 15, 2015
(1/3) Police activity for funeral detail closes portions of these roads from 8am-4pm: Muncaster Mill Rd (MD-115), Shady Grove Rd #MDTraffic — MC Emergency Mgt (@ReadyMontgomery) December 15, 2015
(2/3) Funeral detail closes portions of these roads from 8am-4pm: Georgia Ave (MD-97), Midcounty Hwy (MD-124), Woodfield Rd #MDTraffic

— MC Emergency Mgt (@ReadyMontgomery) December 15, 2015