UPDATED: Hundreds of People Attend Funeral Services for Firefighter Rick Gentilcore (VIDEO)
UPDATED Hundreds of people, including County Executive Ike Leggett and County Councilmembers Marc Elrich and Sidney Katz, attended funeral services for firefighter Rick Gentilcore at Covenant Life Church in Gaithersburg on Wednesday afternoon. It was an emotional goodbye for his colleagues, family and friends.
"We honor him for his service," said Leggett at the service. "He was a good man. He died doing what he loved, serving his beloved county and ready to answer the call."
The 52-year-old firefighter was laid to rest at Gate of Heaven Cemetery in Silver Spring.
You can watch a County Cable Montgomery (CCM) video of the funeral services, below:
ORIGINAL POST Commuters may encounter road closures today on Muncaster Mill Road in Gaithersburg because of a funeral procession for firefighter Rick Gentilcore who passed away last Friday.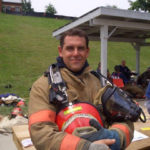 Pete Piringer, a county fire spokesperson, explained that 52-year-old Gentilcore was on duty when he was found unresponsive at the Burtonsville fire station by co-workers.
According to Piringer, Gentilcore was transported in critical condition to a local hospital where he passed away despite the efforts of paramedics and hospital staff.
Gentilcore was a 23-year member of the Montgomery County Fire and Rescue Service department. He served as both a volunteer and a career firefighter. He leaves behind a wife, son and extended family.
The funeral is scheduled for 1 p.m. at Covenant Life Church, 7501 Muncaster Mill Road. Road closures are planned from 10 a.m. – 3:30 p.m. on Muncaster Mill Road between Woodfield Road and Shady Grove Road.
County Cable Montgomery (CCM) is live streaming the funeral service, see below, on its Facebook page.
Internment will take place following the funeral service at Gate of Heaven Cemetery at 13801 Georgia Avenue in Silver Spring.
In lieu of flowers, the family suggests that memorial contributions may be made to the Burtonsville Volunteer Fire Department.
Traffic Advisory – Wednesday, April 12 – MCFRS Funeral Procession, expect some road closures in area of Covenant Life Church, Gburg & beyond pic.twitter.com/s0FJFu0bcW

— Pete Piringer (@mcfrsPIO) April 12, 2017
MCFRS Funeral Broadcast MoCo Cable: CCM – Comcast Ch 6 & 996; RCN Channel 6 & 1056; Verizon Channel 30; Live Stream https://t.co/Pqtc4eHKac pic.twitter.com/F1OyZJKOEt

— Pete Piringer (@mcfrsPIO) April 12, 2017
This morn PSHQ MCFRS Fire Chief Scott Goldstein thanks NCR area mutual aid Fire/EMS departments for coverage filling MCFRS stations TODAY pic.twitter.com/2zXVFHhYWs

— Pete Piringer (@mcfrsPIO) April 12, 2017
>1500 attending funeral & paid respects today to MCFRS Master Fire Fighter Rick Gentilcore #LODD 4/7/17 RIP pic.twitter.com/eBiKsA981L

— Pete Piringer (@mcfrsPIO) April 12, 2017
MCFRS Fire Chief Scott Goldstein posthumously promotes FF/R Rick Gentilcore (#LODD 4/7/17) to the rank of Master Firefighter pic.twitter.com/fvnKdnuhvs

— Pete Piringer (@mcfrsPIO) April 12, 2017
Funeral procession for MCFRS Master Fire Fighter Rick Gentilcore #LODD 4/7/17 is enroute to Gate of Heaven Cemetary Georgia Ave & Conn Av pic.twitter.com/WteyFJNTlE

— Pete Piringer (@mcfrsPIO) April 12, 2017