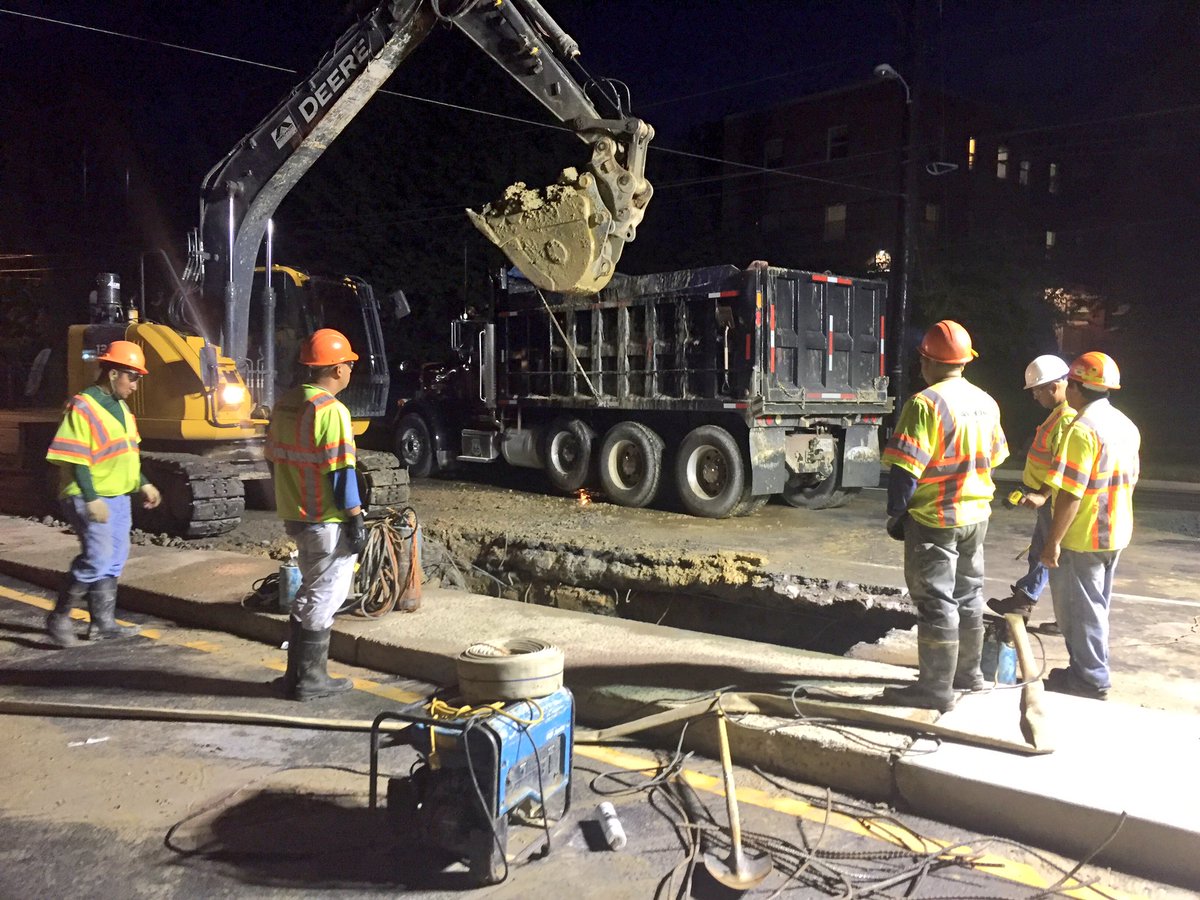 Road Closures on University Boulevard in Silver Spring After Two Water Main Breaks
UPDATED Aug. 1, 5:30 a.m. WSSC crews are working to repair two 12-inch water main breaks along University Boulevard in Silver Spring.
As a result of the two breaks, all lanes of University Boulevard (eastbound and westbound) are closed between Seek Lane and Carroll Avenue.
According to WSSC officials, the first break happened about 10 a.m. on Sunday at 831 University Boulevard. Water was shut off about 11:30 a.m., leaving 15 customers without service. On Monday morning, WSSC reported that the new pipe was in the ground and water service was restored.
Crews were working to repair that break on Sunday when a second break occurred about 3:30 p.m. at 807 University Boulevard, about a half a mile from the first break. Water flowing from the second break has been controlled but has not been completely shut off, which means customers in the area still have water service.
WSSC is utilizing an emergency contractor to make repairs on the second break. Once that contractor is fully mobilized on scene, water will be shut off at the site of the second break.
A water station has already been set up for impacted customers at Sligo Adventist School, 8300 Carroll Avenue.
The 12-inch water main that runs in this area of University Boulevard is 89-years-old. The location of the second break is close to the location of a break on the same line that was repaired in April.
You can follow WSSC on Twitter, see below, for the latest on the water main breaks.
Water is back on for customers affected by break at 831 Univ Blvd. work continues on second break at 807 Univ Blvd. All lanes still closed

— WSSC Water News (@WSSCWaterNews) August 1, 2016
New pipe in ground at 831 Univ Ave break, filling in hole now & water back on. All lanes EB & WB closed thru am rush pic.twitter.com/Ts2gXgFaAu

— WSSC Water News (@WSSCWaterNews) August 1, 2016
Digging continues at 807 Univ Blvd site of second break. All lanes EB & WB closed b/w Piney Branch and Carroll Ave pic.twitter.com/lsjdnF3ccj

— WSSC Water News (@WSSCWaterNews) August 1, 2016
Two water main breaks on Univ Blvd Silver Spring. WB Univ closed all lanes b/w Seek Ln & Carroll Ave. 3 EB lanes closed same area.

— WSSC Water News (@WSSCWaterNews) July 31, 2016
Traffic Update: All lanes EB & WB closed E. University Blvd Silver Spring b/w Seek Ln & Carroll Ave b/c 2 water main breaks. Crews onsite.

— WSSC Water News (@WSSCWaterNews) July 31, 2016