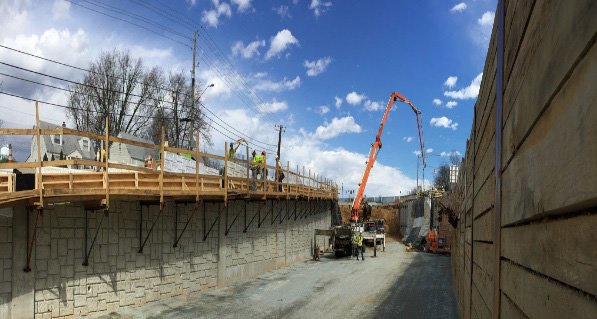 Road Closures Planned at Randolph Road and Georgia Avenue Interchange in Silver Spring This Weekend
Road closures are scheduled to begin at 7 a.m. on Saturday at the Randolph Road and Georgia Avenue interchange in Silver Spring, and motorists are advised to expect delays.
According to officials with the State Highway Administration, crews will temporarily close travel lanes to switch traffic for construction of a $39 million interchange at the intersection.
"We are up against weather constraints and if this traffic switch does not take place as planned, the project could be delayed," said SHA District Engineer Brian Young.  "This is a highly congested area and holiday shopping is in full gear so motorists should plan for extra time during the traffic switch."
To shift traffic within the work zone onto a section of the newly-constructed bridge deck within the work zone, SHA will temporarily close:
• Two left turn lanes on northbound Georgia Avenue prior to Mason Street;
• Two left turn lanes on southbound Georgia Avenue prior to Layhill Road;
• One left turn lane on Layhill Road; and
• Two left lanes on westbound Randolph Road prior to Glenmont Circle.
Crews are planning to intermittently stop traffic for up to 15 minutes in both directions of Georgia Avenue and Randolph Road throughout the traffic switch. The work includes relocating traffic signals, moving concrete traffic barriers, performing traffic signal infrastructure work, testing and activating traffic signals, patching the roadway and applying new pavement markings to correspond with new lane configurations.
Motorists should consider Connecticut Avenue as an alternative. Pedestrian traffic will be maintained at all times and law enforcement will direct traffic during the weekend of the traffic switch. Once the traffic shift is complete, crews will begin work on the next phase of the project, including constructing the next section of a bridge for the new interchange.
News release: Tomorrow 12/10 crews will close travel lanes for MD 97/Randolph Rd project in Montgomery Co https://t.co/reKOzBPAGR #mdotnews pic.twitter.com/xpy5heZ2um

— MD State Highway Adm (@MDSHA) December 9, 2016